Jump to Recipe
The final days of summer are gone. It's officially fall, but the hot, breezy weather isn't convincing me to bring my sweaters out just yet. There's still time to grill.
Keeping with that theme, you must try this easy steak marinate. I chose sirloin steak because it happens to be one of the more "inexpensive" steaks. Beef prices have gone up so inexpensive is a relative term compared to the other pricey cuts of beef. Sirloin is not as tender as filet mignon or marbled like a rib eye, but it's a dependable, lean hunk of meat. It's the friend that will never fail you.
This recipe comes to you from The Food Network. I changed a couple things, but that's because I did not plan in advance and did not have fresh herbs. I was too lazy to run to the store, too. Dried herbs are never as good as fresh, but this marinade is pretty damn good so I think it's fine to use whatever you have on hand.
Make your marinade the night before. Combine olive oil, red wine vinegar, grated garlic, a trio of herbs, a little honey, and some red pepper flakes.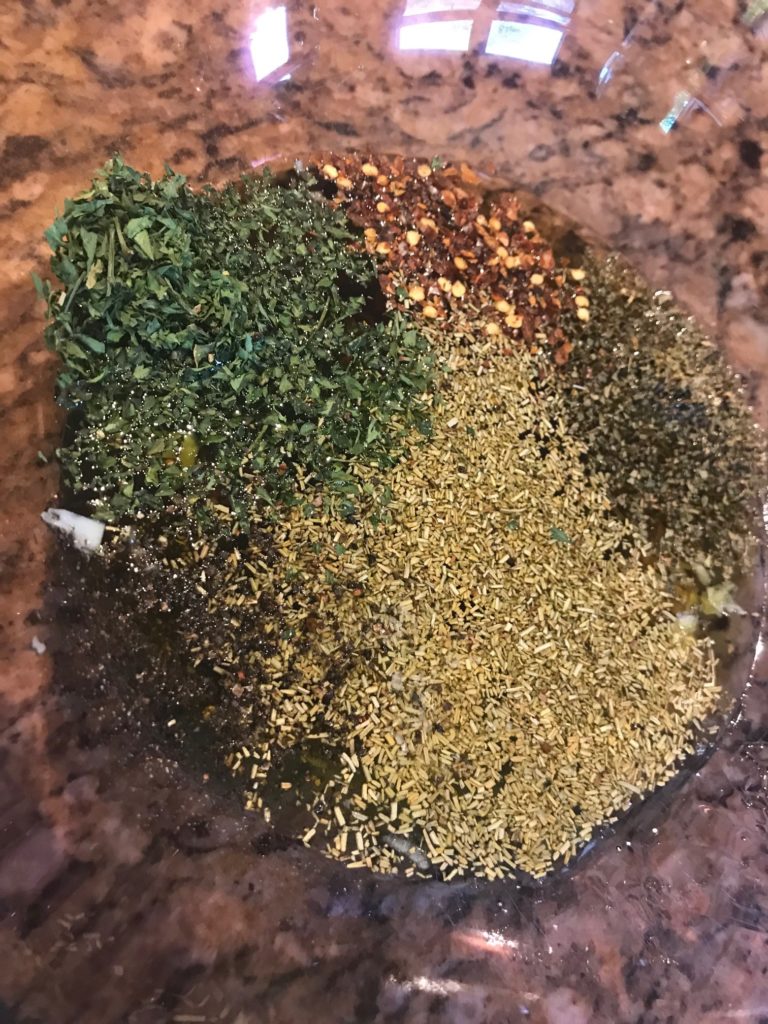 In a gallon size resealable bag, add your steaks. The recipe calls for one large 2-pounder, but that's crazy. I can't find that anywhere. I plopped in 4 nice pieces totaling to about 1 1/2 pounds. This is plenty of meat for a small 3-person army with leftovers. Reserve a little marinade if you want to drizzle some over your cooked steaks. Pour the rest of your marinade into the bag, and squish the meat and marinade around until the meat is well coated. Seal it up and stick it in the fridge overnight. I like to put it in a glass pan in case the bag leaks. I hate cleaning my fridge, especially after the exploding soda incident. Let's not speak of that.
When you are ready to grill, remove the steaks from the bag, dripping the extra marinade off, and place on a plate. Heat up your grill or grilling pan in my case because I didn't want to send my husband out to grill in the unhealthy smoky air. I'm a nice wife.
What you end up with is perfection. The rosemary, parsley, and oregano give it a delicious herby quality while the sweet honey and garlic/pepper kick rounds it out. Everyone gets along and you end up with summer on a plate.
Italian Marinated Sirloin Steak
Ingredients
1/2

cup

olive oil

1/4

cup

red wine vinegar

4

cloves

grated garlic

1

tablespoon

dried chopped rosemary

1

tablespoon

dried parsley

1

tablespoon

dried oregano

2

teaspoons

honey

1/4

teaspoon

red pepper flakes

kosher salt and freshly ground pepper

sirloin steaks
Instructions
Whisk the olive oil, vinegar, garlic, rosemary, parsley, oregano, honey, red pepper flakes, and 1/2 teaspoon each salt and pepper in a medium bowl. Reserve 3 tablespoons of the marinade in a small bowl. Cover and refrigerate until ready to serve.

Combine the remaining marinade with the steak in a large resealable bag. Turn the bag several times to coat the meat. Refrigerate at least 4 hours or overnight, turning the bag occasionally.

Preheat a grill or grill pan to high. Transfer the steak to a plate or baking sheet, letting the excess marinade drip off. Season the steak with salt and pepper. If possible, let stand at room temperature for 30 minutes.

Grill the steak until a thermometer inserted into the thickest side reaches 130 degrees F. For a 1 1/2 to 2 inch steak, this is about 16 to 20 minutes for medium rare, flipping every 4 to 5 minutes. Transfer the meat to a cutting board and let it rest 10 minutes. Serve whole or slice the meat to your preferred thickness, against the grain. Serve with the reserved marinade.