Jump to Recipe
Shrimp is a really quick protein to cook so it's ideal when you want to make a fast weekday meal for dinner. Although not as inexpensive as ground beef or chicken thighs, it's cheaper than beef right now and a fresh alternative when you want to change it up.
I found this recipe on the Food Network and is guaranteed not to fail. Just don't step away from the skillet. First off, gather your ingredients. I purchased shrimp that were already peeled and deveined, without the tails. I hate cleaning shrimp and frankly, I do a terrible job at it so I buy them ready to go. Worth every penny. Thinly slice up an onion. Drain and rinse your canned beans. Measure out the rest of your ingredients.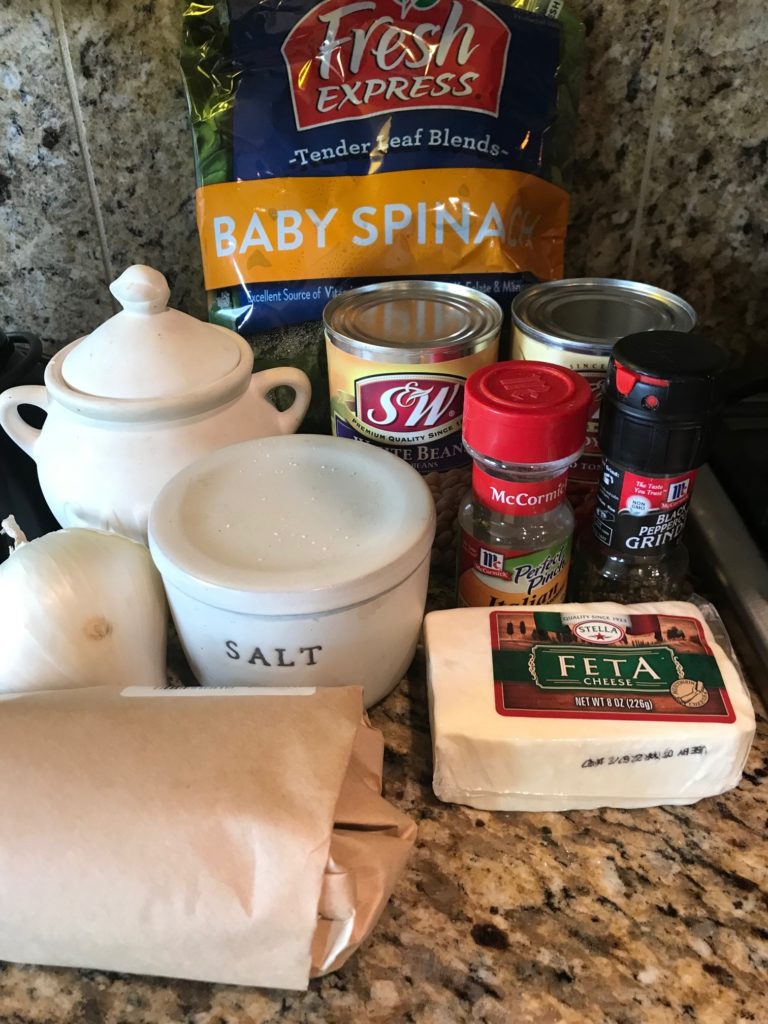 Start out by cooking your onions until they are soft and a little brown.
Stir in your seasonings and garlic. Cook until the garlic is soft and fragrant, just about a minute.
Add the tomatoes and boil. Turn down the heat to a simmer and cook for a couple minutes. You'll notice that the sauce is a bit thicker, which is what you want.
Add the shrimp and beans.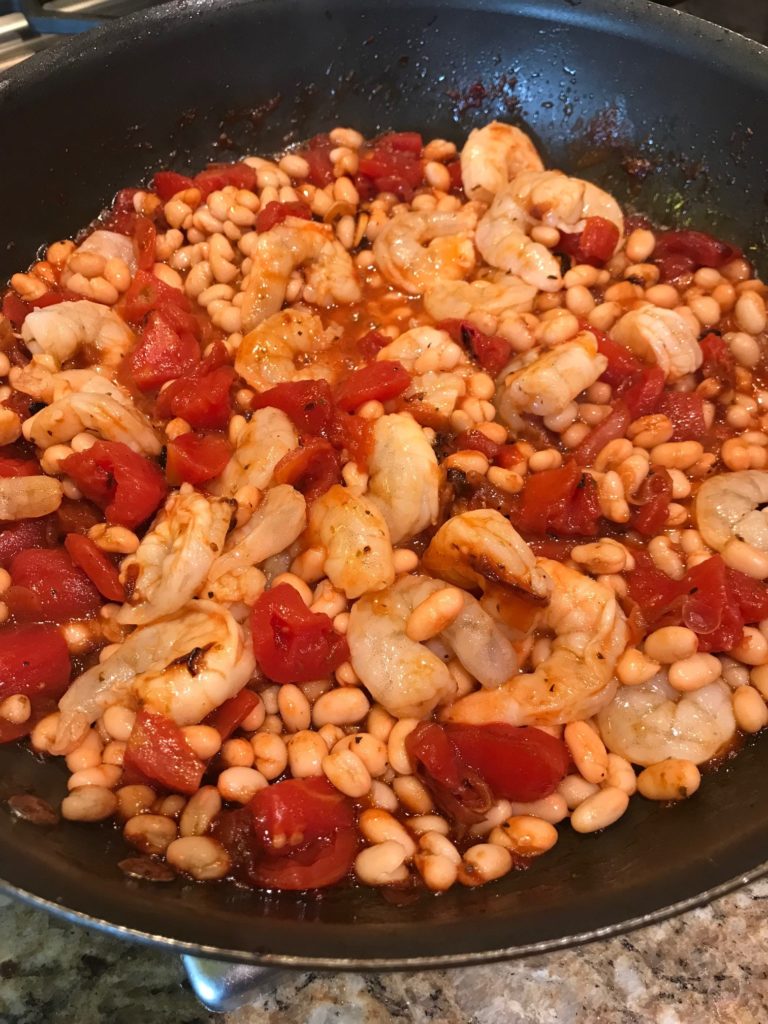 Watch your shrimp! It'll take only about 2-3 minutes until they start to turn pink. You don't want them fully cooked yet. You're not done. Stir in your spinach (which your kid will pick out with the deftness of a surgeon, but hey, you tried!). Cook for another couple of minutes. Your spinach will be wilted, but a bit green, and your shrimp are completely cooked.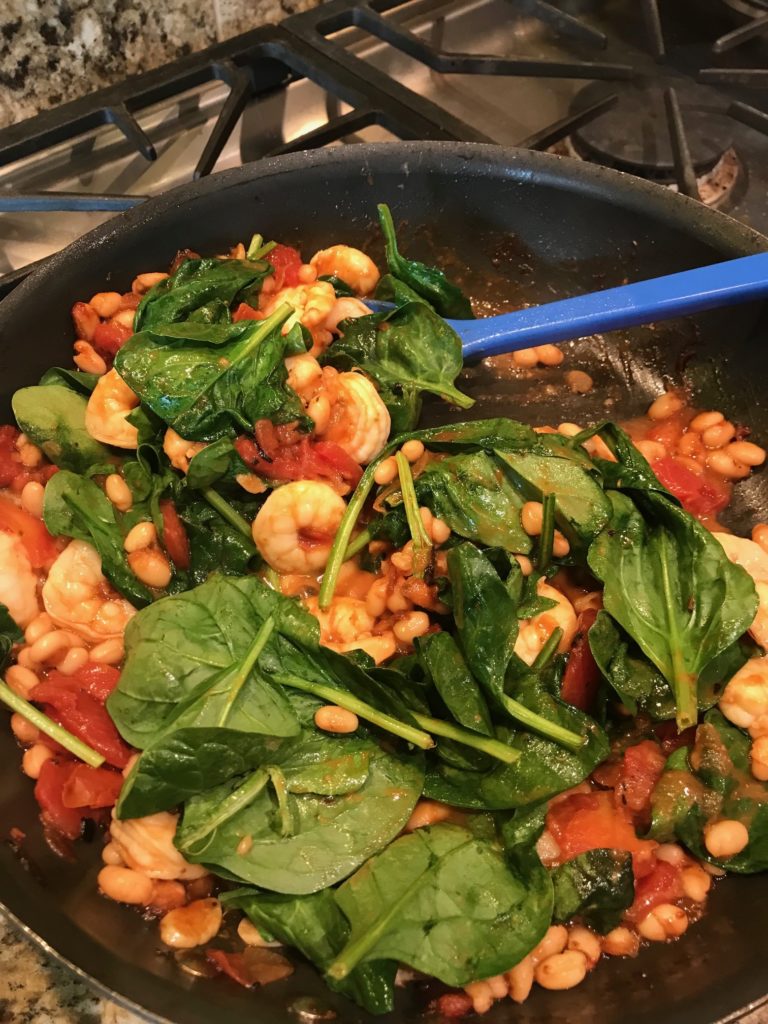 Remove the pan from the heat, pile on some feta on top, and cover the skillet for another couple of minutes while the cheese is warm. Now you're done!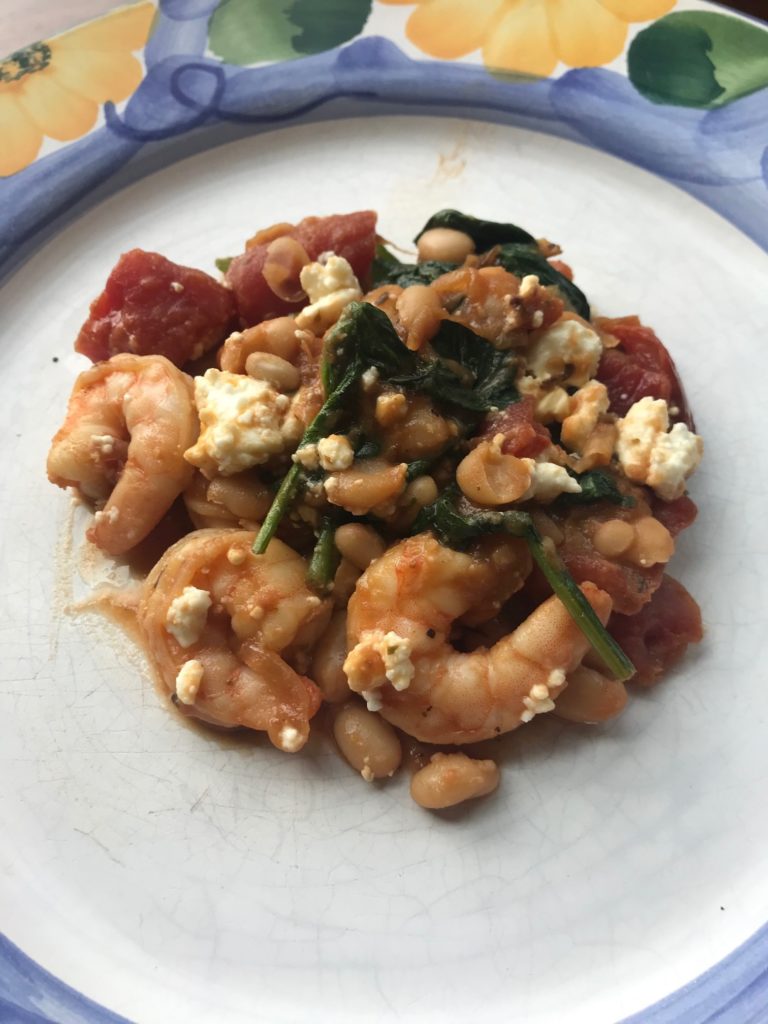 Your family will be impressed at how fancy this looks. Ooh! Shrimp! But what they will really like is how tasty it is. This recipe uses only a half a pound of shrimp so another opportunity for you to stretch your dollars by using beans, which add a creaminess that is out of this world. The salty feta on top finishes it off. Enjoy!
Shrimp, White Bean, and Feta Skillet
Ingredients
2

tablespoons

olive oil

1

small

onion

thinly sliced

1

clove

garlic

thinly sliced

1

teaspoon

Italian seasonings

Kosher salt and freshly ground black pepper

14

ounces

diced tomatoes

8

ounces

large shrimp

peeled and deveined, tails removed

14

ounces

cannellini beans

drained and rinsed

2

cups

baby spinach

packed, about 2 1/2 ounces

1/4

cup

crumbled feta cheese
Instructions
Heat the oil in a large skillet over medium-high heat. Add the onions and cook, stirring occasionally, until softened and just starting to turn brown in some spots, 4 to 5 minutes. Stir in the garlic, Italian seasoning, 1/2 teaspoon salt, and a few grinds of black pepper. Stir until the garlic is softened, about 1 minute.

Pour in the tomatoes and bring to a boil. Reduce the heat to medium and simmer, stirring occasionally, until the tomatoes are slightly thickened, 2 to 3 minutes. Add the shrimp and beans and cook, stirring occasionally, until the shrimp just start to turn orange, 2 to 3 minutes. Stir in the spinach and continue cooking, stirring occasionally, until the spinach is just wilted and bright green, and the shrimp are cooked through and opaque, 2 to 3 minutes. Remove the skillet from the heat and sprinkle the feta over top. Cover until the cheese is warmed through, 2 to 3 minutes. Serve immediately.