Jump to Recipe
No, it's not a typo. This is is Lora's recipe, not Flora's. It's also the last dish I made to finish off the Christmas ham. You'll find this recipe to be super tasty and easy to make plus there are tons of leftovers that are good to freeze. The hardest part is to remember to soak the beans the night before. Make yourself a little reminder so you don't forget.
Before you start prepping your ingredients, make some rice. I use my Instant Pot as rice cooker, which is what I did, but you can obviously make it over the stove. I just recommend getting this out of the way before you make the rest of the meal.
While your rice is cooking, start on your chopping. There's a lot of chopping, but that's ok. You've got this. For instance, chop up an onion by using this little trick of cutting the onion in half, leave the root attached, slice into strips up to the root, and then across. You'll end up with perfectly chopped onion pieces.
After you've chopped your ham and veggies into bit-sized pieces, start adding everything to your Instant Pot.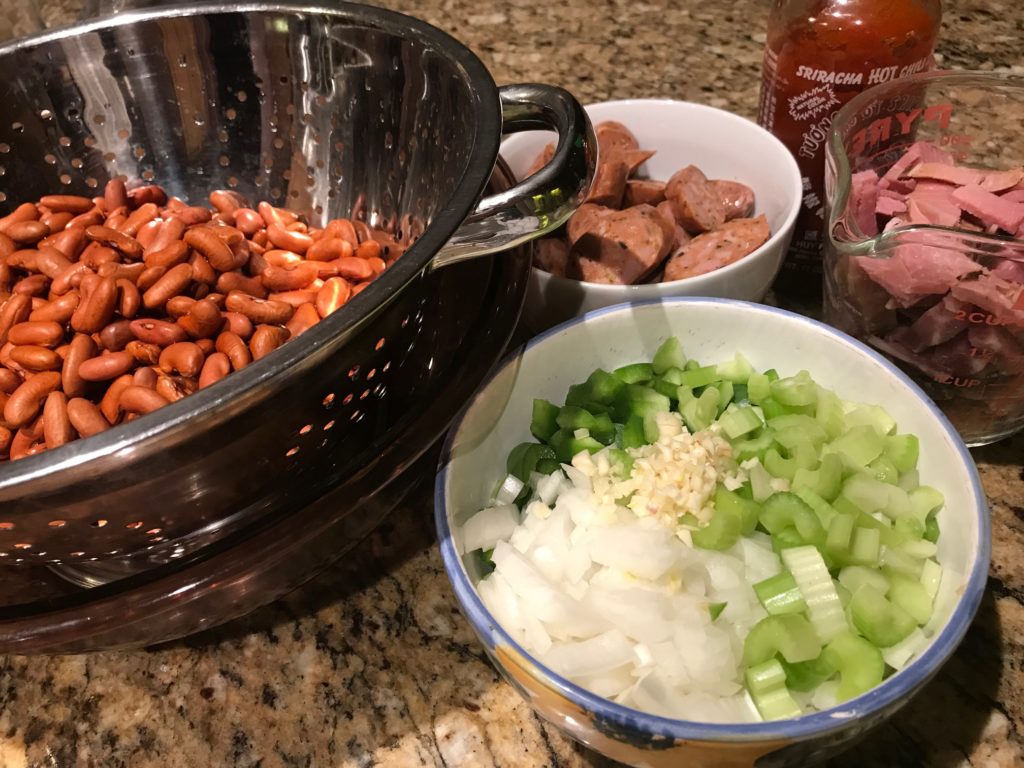 The only changes I made was to use Italian-style sausage instead of andouille and the only hot pepper sauce I could find in my fridge was sriracha.
Toss everything in the Instant Pot pot except your rice, which should be done by now. I keep two stainless steels pots so I can switch them out for this very purpose. Pull the rice pot out and put the beans pot in. Seal it up and cook on high for 30 minutes. Quick release and you're done. Seriously that easy.
Maybe this is a preference, I did find a lot more liquid than I would have liked so I used a slotted spoon to scoop out the bean mixture before serving it over rice. If I made this again, I'd experiment with 2 cups of water instead of 4.
This recipe makes 10 servings so you should have plenty to freeze for another time. I froze a couple containers without the recipe so I can make fresh rice next time.
Lora's Pressure-Cooker Red Beans and Rice
Ingredients
16

ounces

dried kidney beans

2

cups

cooked ham

cubed

12

ounces

Italian-style chicken sausage or other sausage

sliced

1

medium

green pepper

chopped

1

medium

onion

chopped

2

celery stalks

chopped

1

teaspoon

sriracha or other hot sauce

2

garlic cloves

minced

1

teaspoon

salt

4

cups

water

hot cooked rice
Instructions
Rinse and sort beans. Soak overnight according to package directions. Drain, discarding water, and rinse with cool water.

Prepare rice ahead of time and set aside.

In a 6-qt. Instant Pot (or other electric pressure cooker), combine beans, ham, sausage, vegetables, sriracha, garlic, salt, and water.

Lock lid and close pressure-release valve. Pressure cook on high for 30 minutes. Quick-release pressure. Serve over hot cooked rice.