Jump to Recipe
It's Superbowl Sunday! Just like last year, it's just the three of us eating snacks, watching commercials, and enjoying the 90s-inspired half-time show (go Eminem!). I plan to play with my air fryer and make: Tater Tots, Mozzarella Sticks, and Jalapeno Poppers. For dinner, we're having Instant Pot White Chicken Chili with cornbread. I'll blog it if it turns out to be good.
Today I'm sharing a really easy casserole (yes, yet another casserole!) that you could make today or during the week. It's comforting, cheesy, beefy, and simple. Picky eaters will like it too. I've slightly modified it from the original, which you'll find on The Food Network.
Go preheat your oven to 425F. You're going to need it to melt all that yummy cheese. Find a 2-quart casserole pan and spray it with cooking spray. Boil some noodles according to the package. Pull the sour cream out of the fridge. While you're boiling your noodles, dice a red bell pepper and chop a bunch of green onions.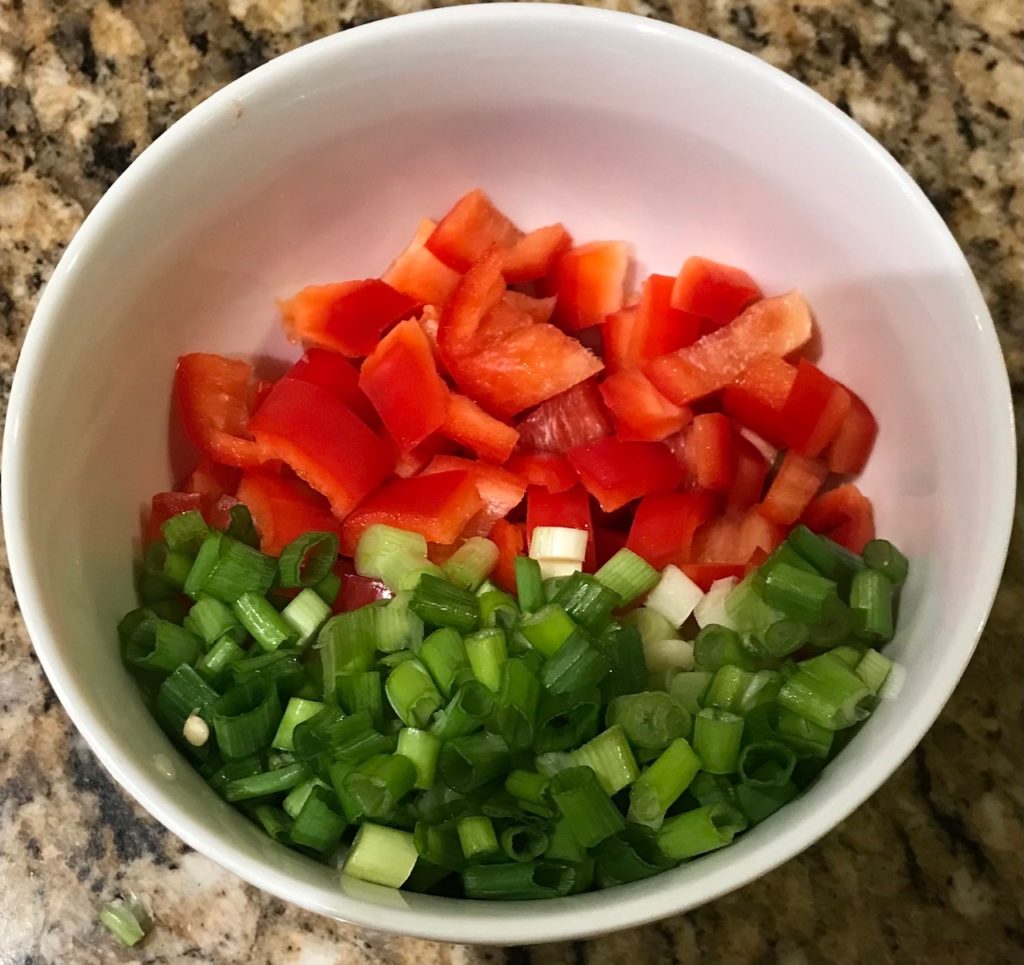 Grab your packaged ground beef. Shred some Parmesan cheese, or buy the shredded stuff. It seems like I haven't been able to buy a block of Parmesan cheese since the pandemic hit unless I want to spend $20/pound for the imported stuff. No thank you.
Measure out some tomato paste and Italian seasonings. BTW, after you open that can of tomato paste and only use a tablespoon, don't throw it away! Get a plate, plop tablespoons of paste onto the plate, and freeze. When they're frozen, pop them in a baggie and store in the freezer. It's a good way not to waste tomato paste and you'll have some for other recipes. You're welcome.
You'll also need some salt and pepper on stand by. Grab a can of diced tomatoes. Grate some cheddar cheese. If you have some parsley, chop a few leaves for garnish. Sorry, I sound like I'm barking out orders. Please gather you're ingredients. It's better to have everything you need to work with at your fingertips.
Take your ground beef and brown it in a skillet for about 4 minutes. Toss in your veggies with a pinch of salt and cook for 3 minutes so the veggies are still a little crunchy. Move the meat mixture to the side and add your tomato paste. You'll cook this for about a minute to help get the raw flavor out. Add Italian seasonings and another pinch of salt. It's important to add a little salt bit by bit as you go rather than add a ton of it at the end. Throw in your diced tomatoes and stir. Simmer it for a couple minutes. It should thicken up a bit.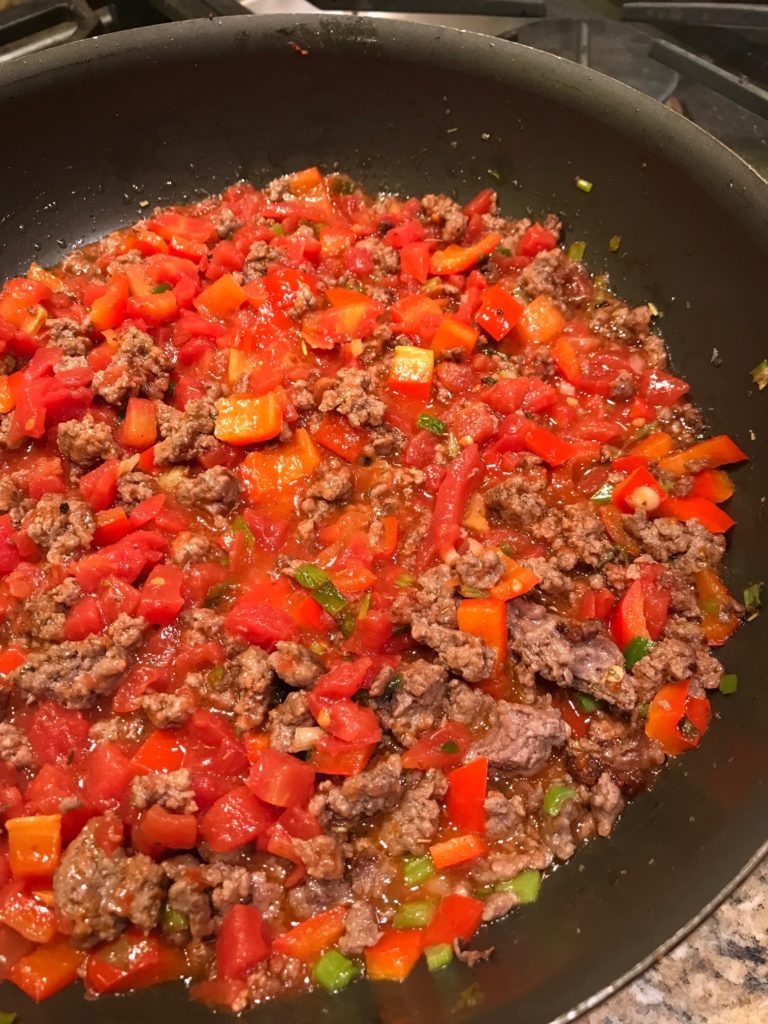 When your noodles are done, drain and put them in your casserole pan. Add sour cream, Parmesan cheese, and pinch of salt and pepper. Stir it around until it's well mixed. This will be your first layer. Next, pour the beef mixture over the noodles. Do not mix!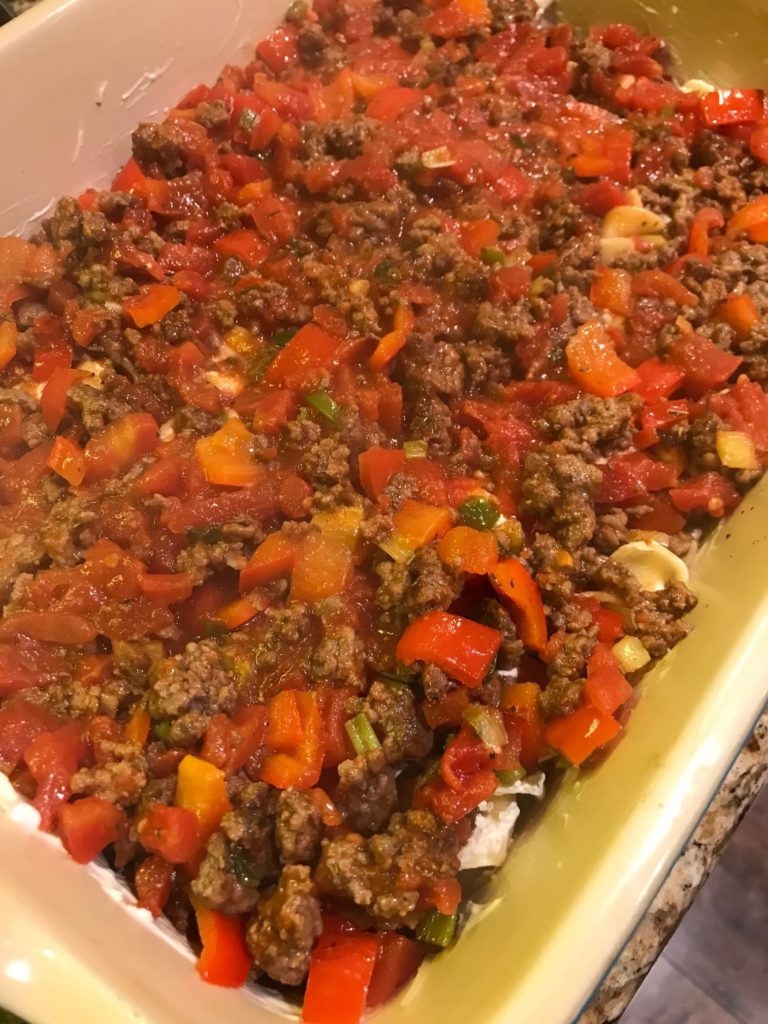 Sprinkle the grated cheddar cheese over the whole thing.
Add more than 2 cups if you're wild. I used restraint and stuck with 2 cups. It was very difficult. I see a patch in the middle that could have used more cheese.
Stick it in the oven and bake until the cheese is all melted and gooey, about 15-20 minutes. I'd start checking on it after 15 minutes. You don't want to scorch the top. Pull it out when it's ready and let it sit for about 10 minutes. I know. It's a hardship you'll have to bear.
Serve and garnish with parsley so it looks fancy.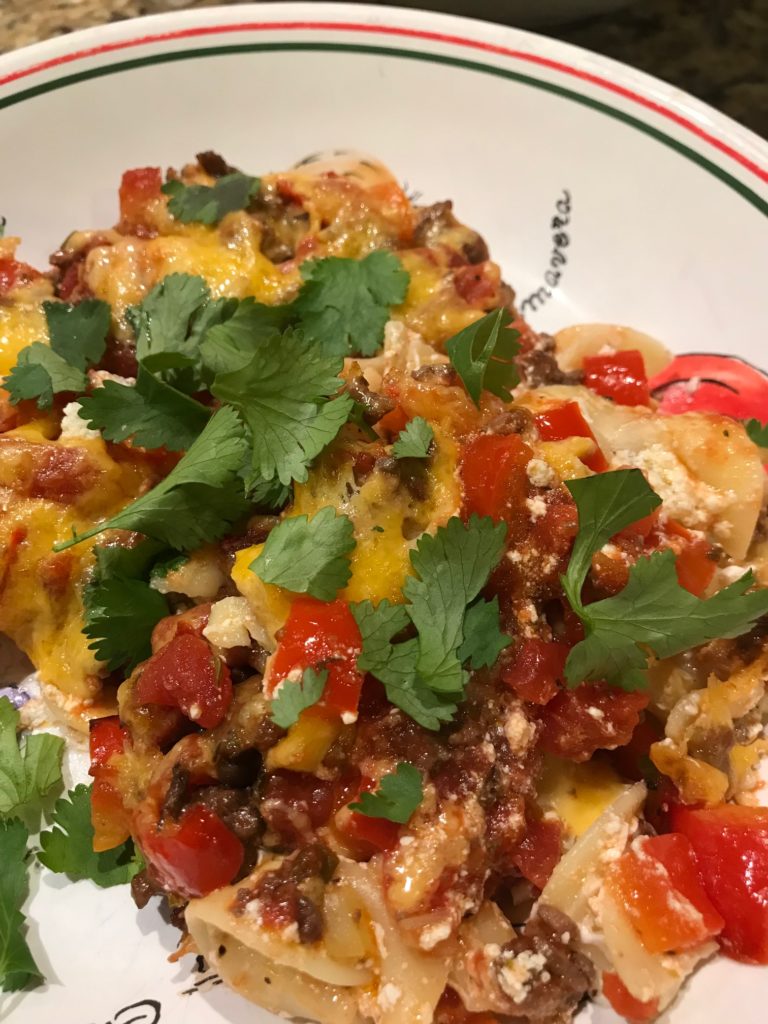 You're done! In addition to being easy to make, it reminds me of lasagna without all the work. It's creamy. It's saucy. It's unforgettable. You'll want to make this again and again.
Beef and Cheddar Casserole
Ingredients
Cooking spray

1

tablespoon

olive oil

kosher salt and pepper

3

cups

wide egg noodles

about 5 ounces

1 1/2

cups

sour cream

1/2

cup

shredded Parmesan cheese

12

ounces

ground beef

1

red bell pepper

diced

1

bunch

green onions

chopped

1

tablespoon

tomato paste

1

teaspoon

Italian seasonings

14 1/2

ounces

canned petite diced tomatoes

2

cups

grated cheddar cheese

chopped fresh parsley

for garnish
Instructions
Preheat the oven to 425 degrees F. Spray a 2-quart baking dish with cooking spray.

Bring a large pot of salted water to a boil. Add the noodles and cook to al dente according to the package directions. Drain and put in the prepared baking dish. Toss with the sour cream, Parmesan, and a pinch of salt and pepper.

Meanwhile, heat olive oil in a large skillet over medium-high heat. Add ground beef and cook, stirring, until no longer pink, about 4 minutes. Add the red peppers, green onions, and a pinch of salt. Cook until crisp-tender, about 3 minutes. Move the beef mixture to one half of the pan, add the tomato paste to the other side, and toast for a minute. Sprinkle with the Italian seasoning and a pinch of salt. Add the diced tomatoes. Stir and bring to a simmer. Cook until slightly thickened, about 2 minutes.

Pour the beef mixture over the noodles (do not mix!) and sprinkle with the grated cheddar cheese. Bake on the middle rack until the cheese is melted and the edges are bubbling, 15 to 20 minutes. Let stand for 10 minutes before serving. Garnish with fresh parsley.
Feel free to share this recipe: