Jump to Recipe
Aka…spooky peppers. Yes, they were pretty scary alright.
For those of you who know me, you'll know I love cute food. Give me a theme and like a person who dresses up at parties, I create cute food. What can I say? It's ridiculous and brings a smile to my face. Someone once accused me of showing off, which actually hurt my feelings because I was having a good time just for being me. Can I help it if I made chocolate dipped strawberry footballs for the Super Bowl?
So it comes to no surprise when I decided to make something Halloween-y. I wanted to avoid making a dessert so I pondered on what dish I could make that is both cute and scary, without being disgusting. Stuffed orange peppers popped into my mind. I have no idea what inspired me.
First, I looked for a stuffed pepper recipe with an Italian bent. I also wanted to be able to make something that I wouldn't have to babysit…the slow cooker! I didn't find exactly what I was looking for, but close enough. I came across Crock-Pot Stuffed Peppers from Delish.
Take four orange peppers, slice off the tops, keeping the green stem intact. With a small, sharp knife, carve jack o' lantern faces. Here's an example of one of the scary dudes.
Because the original recipe was inspired by Mexican flavors and I wanted Italian, I skipped the black beans and frozen corn, and substituted Italian seasonings instead of cumin, chili powder, and oregano. I also bumped up the amount of garlic powder used.
I recommend using lean or extra-lean ground beef to avoid the grease. I prefer a 90/10 or 93/7 blend instead of a 80/20 blend, which is better for grilling cheeseburgers. If you have no idea what I'm talking about, the next time you buy ground beef, look at the package. Ground beef is measured by the lean-to-fat ratio. 80/20 means that 80% lean to 20% fat. The more fat, the more flavor. Sometimes that's a good thing, but not when you end up with a oily mess because the fat has melted into a pool of grease.
Mix all your stuffing ingredients together.
Use a spoon to scoop into your cute little pumpkins. Ohhhh…scary!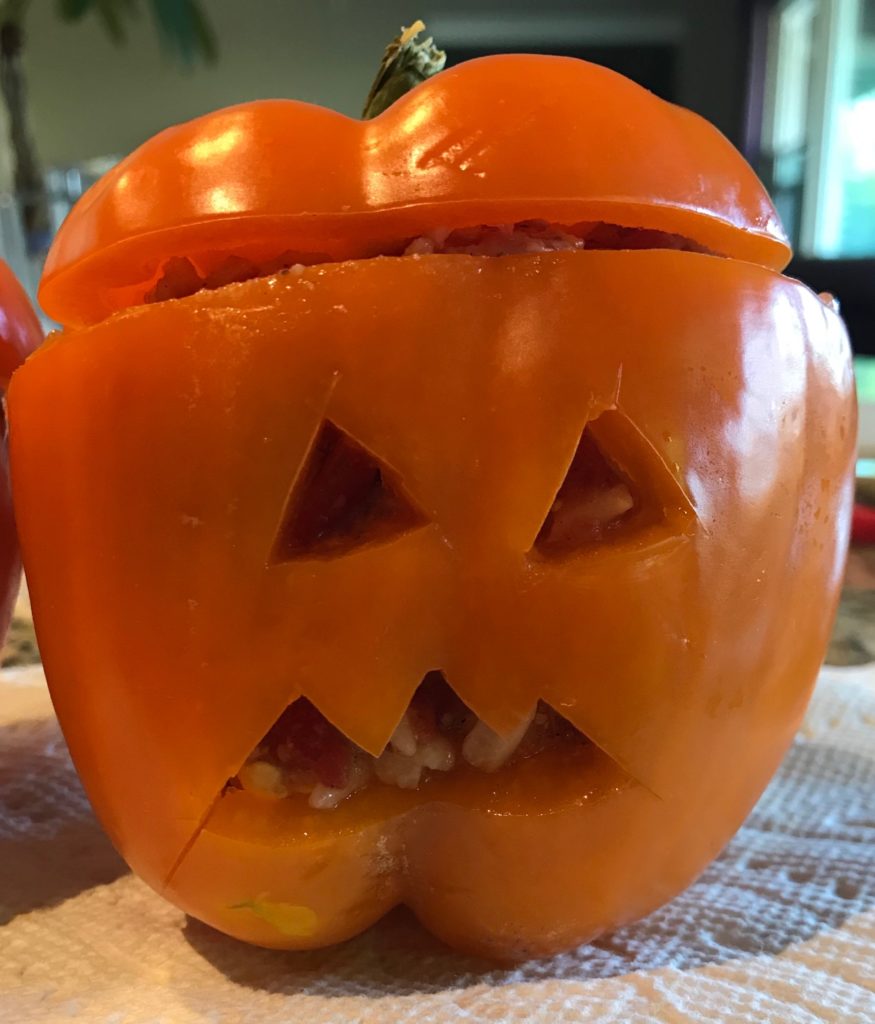 Stick them in the slow cooker for 3 hours on high. What you get is this little fella.
Ok, so he's not as cute or as spooky as I had hoped. He's kind of funny looking with rice oozing out of his mouth and looking a bit wrinkly. I did have to chuckle, but frankly, I was disappointed because the pepper was squishy. I want my cute food to taste delicious too. There's no way these peppers should have been cooking for 3 hours. If I make them again, I would definitely check on them after 2 hours to see if the ground beef was cooked through and the pepper was soft, not mushy. If you make them, let me know how they turned out.
Happy Halloween! Boo!
Slow Cooker Halloween Stuffed Peppers
Ingredients
4

orange bell peppers

1

pound

lean ground beef

15

ounces

fire-roasted diced tomatoes

2

cups

shredded jack cheese

divided

1

cup

white rice

cooked

1 1/2

teaspoons

salt

1

teaspoon

pepper

1

teaspoon

garlic powder

1

teaspoon

Italian seasonings
Instructions
Slice the tops of the peppers and keep the green top attached to the cap. Remove the seeds inside. With a small, sharp knife, carve little jack o' lantern on each pepper.

In a large bowl, combine beef, 1 cup cheese, tomatoes, rice, salt, pepper, garlic powder, and Italian seasonings. Stir until all ingredients are fully incorporated.

Stuff peppers with the beef mixture. Place them in a slow cooker, top side up. Cover and cook on high for 3 hours.

When the peppers are tender, top peppers with remaining cheese and cover. Cook on low for 5-10 minutes more, or until cheese melts.