Jump to Recipe
I'm not good at making Asian food. There. I said it. Maybe it's not that I'm terrible at it, but for example, take-out is so good. How can I compete? It's tasty and inexpensive. But I'm determined to win and this time, I'm making a Japanese noodle dish. Here's my attempt and while I still have a ways to go, this ended up being a really easy weeknight dinner with plenty of leftovers.
I found a promising recipe on Bon Appétit. In general, Bon Appétit has very good, reliable recipes so I trust them. I did change the recipe. I couldn't find instant udon noodles and I ran out of fresh ginger so I had to adapt a little. I also made it less spicy because of the boys. I made a few other changes, like used more sesame oil and low-sodium soy sauce. If I had to do it over again, I would have used fresh ginger and your standard soy sauce.
I like to prep everything beforehand so I can easily dump ingredients into the pan. For this recipe, slice up some cabbage and green onions. Be sure to separate out the pale and dark parts of the green onion. Stage your white/pale-green onion, ginger, and red pepper flakes in one bowl. Dark green onion parts go in another bowl.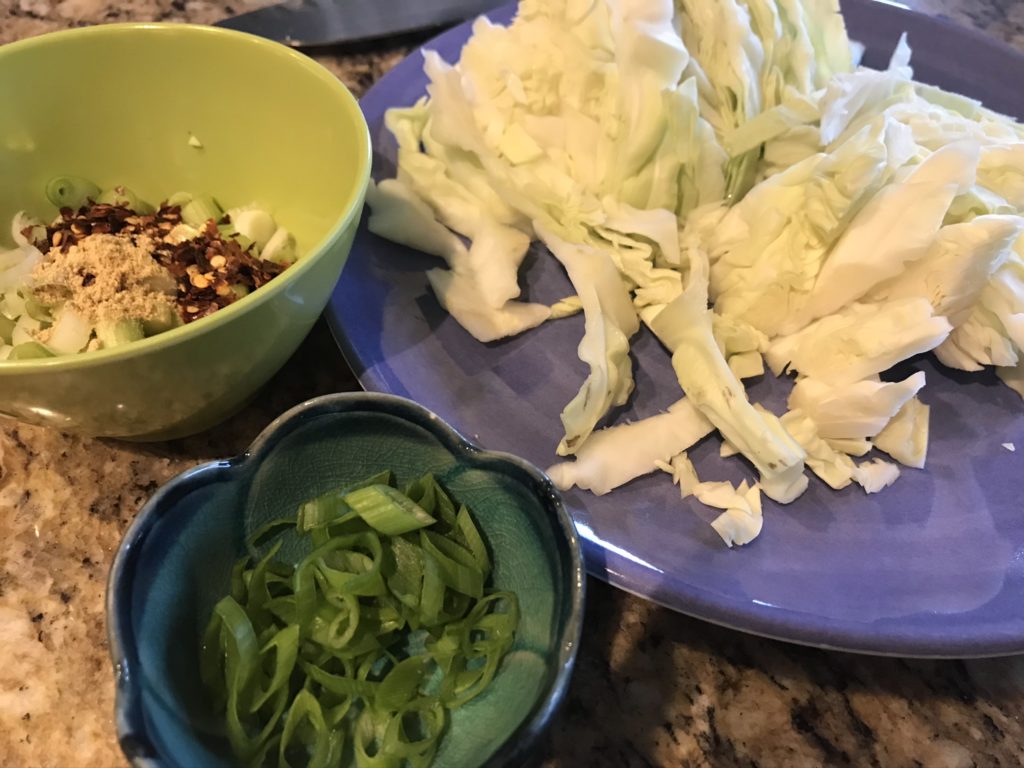 One reason why I like Bon Appétit is that they give you advice in the directions. In this recipe they remind you not to touch the pork so it browns. "The pork will never brown if you're fussing with it the whole time, so when we say 'undisturbed,' that means keep your paws off it and let the heat of the pan and the pork do their thing." You can't tell here, but the underside is browned. I swear. I should have taken a picture. Ok, it could have browned a little longer.
While the meat is browning, I boiled 9.5 ounces of udon noodles according to the package. The original recipe calls for 14 ounces so in my version you end up with a higher meat to noodle ratio, which is fine by me. I have no idea where to buy instant udon noodles. I found a surplus of ramen noodles, but not udon. The ones I chose cook in 4 minutes and I was happy with them.
I used mirin, which is an ingredient that I'm not entirely familiar with, and is often used in Japanese cooking. It's a slightly sweet Japanese cooking wine made from rice and is similar to sake with a lot less alcohol. Bon Appétit has an informative article about what it is and what to do if you can't find it.
When you're done, you end up with something like this. It was really simple to make and got two thumbs up.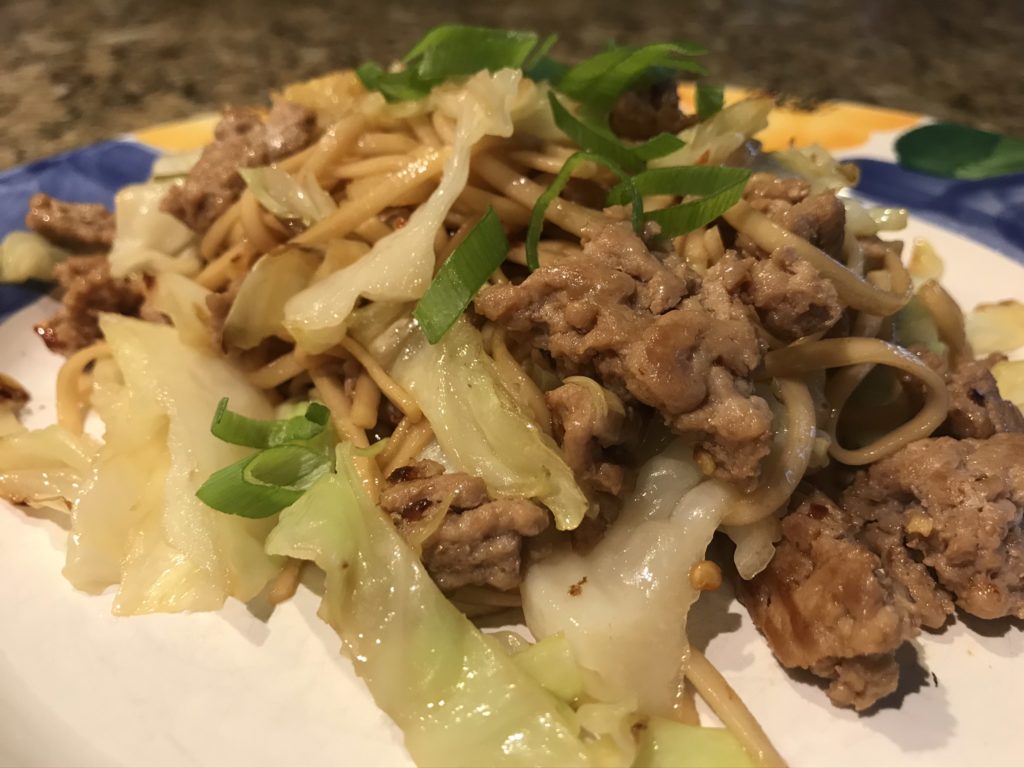 Pork Udon Noodles
Ingredients
2

tablespoons

vegetable oil

divided

4

cups

green cabbage

coarsely chopped

9.5

ounces

udon noodles

3

teaspoons

sesame oil

10

ounces

ground pork

5

green onions

green and pale parts separated

1/2

teaspoon

ground ginger

1/2

teaspoon

red pepper flakes

1/3

cup

mirin

1/3

cup

soy sauce

low sodium
Instructions
Heat 1 tablespoon of vegetable oil in a large skillet over medium-high heat. Add cabbage and cook, tossing often, until edges are browned, about 4 minutes. Reduce heat to low and continue to cook, tossing often, until thickest parts of cabbage leaves are tender, about 4 minutes longer. Remove from pan and place on a separate plate. Set aside.

Heat remaining tablespoon of vegetable oil in same skillet over medium-high heat. Add pork, breaking up and spreading across surface of pan with a spatula or tongs. Cook pork, undisturbed, until underside is brown, about 3 minutes. When pork is browned, break up meat into small bits. Cook, tossing, just until there's no more pink, about 1 minute.

While the meat is browning (and you're not touching it), boil udon noodles according to the package. Drain in a colander. Transfer noodles to a bowl and toss with sesame oil.

To your meat mixture, add the pale parts of the chopped green onions, ginger, and red pepper. Continue to cook, tossing often, until green onions are softened and the bottom of skillet is starting to brown, about 1 minute.

Add cabbage, udon noodles, mirin, and soy sauce. Cook, tossing constantly, until noodles are coated in sauce (be sure to scrape bottom of skillet to dissolve any browned bits), about 45 seconds.

Remove from heat. Top with dark-green parts of scallions and serve.
Feel free to share this recipe: