Jump to Recipe
The first time I made this recipe was an utter failure and I don't think it was me. There. I said it. My son liked it, but I don't know why. It was so dry. Where's the sauce? Where's the cheese? It was full of peas, which he managed to remove with the precision of a surgeon. This was pretty much the top worst five "edible" recipes I've ever made.
Determined to make it right, I changed the recipe so drastically that I don't consider it to be the same recipe anymore. I struggle to give the original recipe owners any credit because it might actually be bad publicity for them. I hope that's not too harsh. My Catholic guilt is seeping through about the whole affair.
Ok, I'm over it. Make this. It's super tasty and an easy weeknight dinner.
First prep your ingredients like mincing up a shallot and a few cloves of garlic. Dice your ham into bite-sized cubes. Shred your Swiss cheese. Sneak a few bits for yourself.
Heat up a pan with some olive oil, and cook the shallot and garlic until soft.
Add ham and cook for several minutes, stirring half way through, until browned on a couple sides. Add some pepper, and then add fresh tortellini and frozen peas.
The original recipe didn't specify fresh tortellini and had you use twice as much. They also called for 2 cups of peas. I love peas, but way too many peas.
After you've stirred it up a bit, add broth and cover. The original recipe called for less broth and not cover. Adding sufficient liquid and covering it is essential to making sure the tortellini is cooked through.
After this mixture has simmered for about 10 minutes (cook for however long your tortellini package tells you to cook it for), add cream and cheeses.
Here was another major flaw of the original recipe. Not enough cream and cheese. I know. Start your diet tomorrow. But seriously, if you want a cheesy sauce, you have to do it right.
After it's all mixed up, serve and garnish with a little parsley to make it look pretty.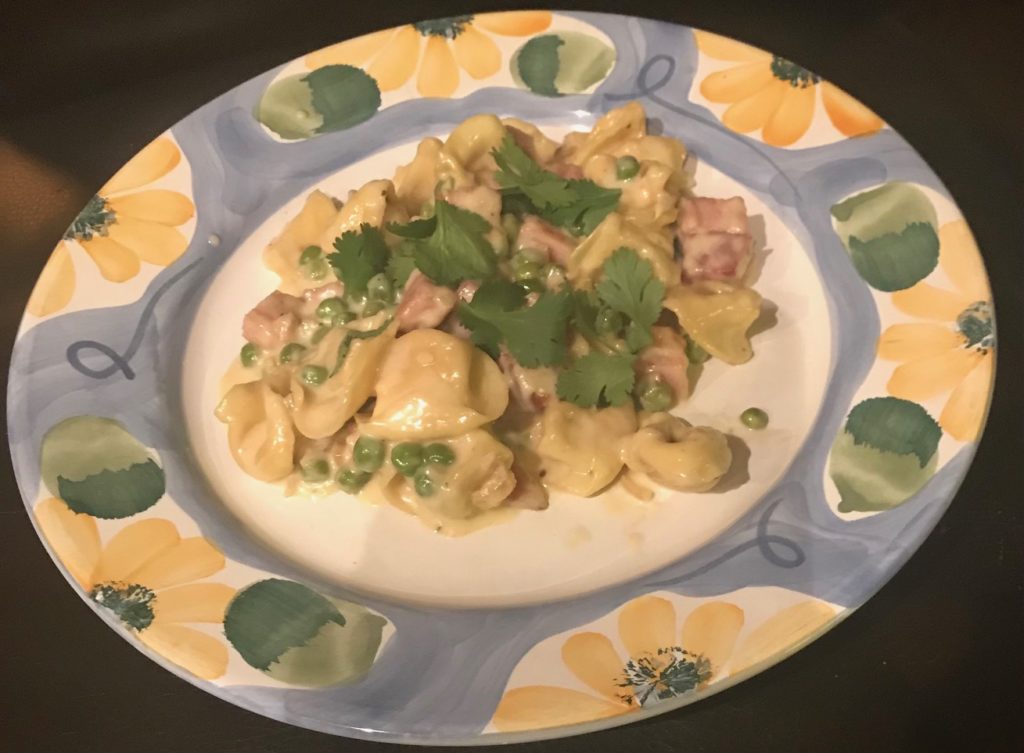 My family agreed this was 100% better than the first attempt. I'm pleased and you will be too.
Ham and Cheese Tortellini
Ingredients
1

tablespoon

olive oil

1

medium

shallot

minced

1 1/2

cups

diced ham

freshly ground pepper

9

ounces

fresh tortellini

1

cup

frozen peas

1

cup

low-sodium chicken broth

3/4

cup

heavy cream

1 1/2

cups

shredded Swiss cheese

1/2

cup

grated Parmesan cheese

freshly chopped parsley

for garnish
Instructions
In a large skillet over medium-high heat, heat olive oil. Add shallot and garlic. Cook until soft, 3 minutes. Add ham and cook until browned, stirring once half way through, 6 minutes.

Season with pepper. Add fresh tortellini and frozen peas. Stir until mixed and then add chicken broth. Simmer until tortellini are al dente, about 10 minutes (or what the package recommends).

Add heavy cream and both cheeses. Stir until creamy. Serve and garnish with parsley.
Feel free to share this recipe: