Jump to Recipe
It's the end of August. School started a couple weeks ago, which typically marks the end of summer. With the boy in school, it's impossible to go on a vacation, which is hard because Labor Day seems to be my end of summer. The weather is still hot and I'm ready for a last trip, even if it's just a quick getaway to Tahoe. Alas, none of that is going to happen this year so one must make do with what one has.
This is where the pineapple comes in. The pineapple? Yes, the pineapple. The pineapple is synonymous with tropical, fun, vacation, and relaxation. It can be eaten plain. It can be controversial (on pizza). It makes a great foo-foo drink (pina colada). And frankly, it's one of the cutest fruits around. Rejoice the pineapple!
Next, there's barbecue, another symbol of summer. I'm not going to go into the discussion of barbecue versus grilling. That's for another day. Today I'm just writing about that delicious, sweet, and tangy saucy stuff. It's like summer in a bottle. Work with me here.
Camping. I love it. Some of you hate it and I still like you, but for those campers out there, the foil packet is a treasured item. Take some meat. Take some veggies. Shake some salt and pepper over it. Wrap it up. Throw it on the fire or grill. Voila! Dinner!
So I was pretty happy when I found this recipe to help with this staycation: Pineapple BBQ Chicken Foil Packets. And it's super easy.
First, heat up the grill. I'm including this part of the recipe for you grillers out there, but I decided to oven bake mine because I didn't feel like standing in front of the grill when it's a million degrees. I compromised by heating up my air-conditioned house with a 425F oven. First world problems.
Cut your pineapple (yay!) into chunks. I cheated and used pineapple my grocery store already cut up for me. I think cheating is perfectly acceptable. You can used canned pineapple too. Or you can cut up a whole pineapple. The choice is up to you.
Slice up your veggies: onions and bell peppers. The original recipe (thank you Kitchn!) called for red onions and green bell peppers. I was all out of red onions, which was a shocker because that never happens around here. I have a constant supply for my big-ass salads. (To clarify, the salads are big, not my ass.) But I did find some white onions leftover from our tacos the other day. Next, I was supposed to use green bell peppers. Ummm. Just no. They are bitter and not tropical at all. You want a red pepper. You can sub for yellow or orange too. Just don't use green unless you really like them.
Place your fruits and veggies in a bowl and pour in a cup of your favorite barbecue sauce. My favorite lately is Sweet Baby Ray's Barbecue Sauce, and I'm not getting any money for saying that. Then, throw in some salt and pepper, and mix it up.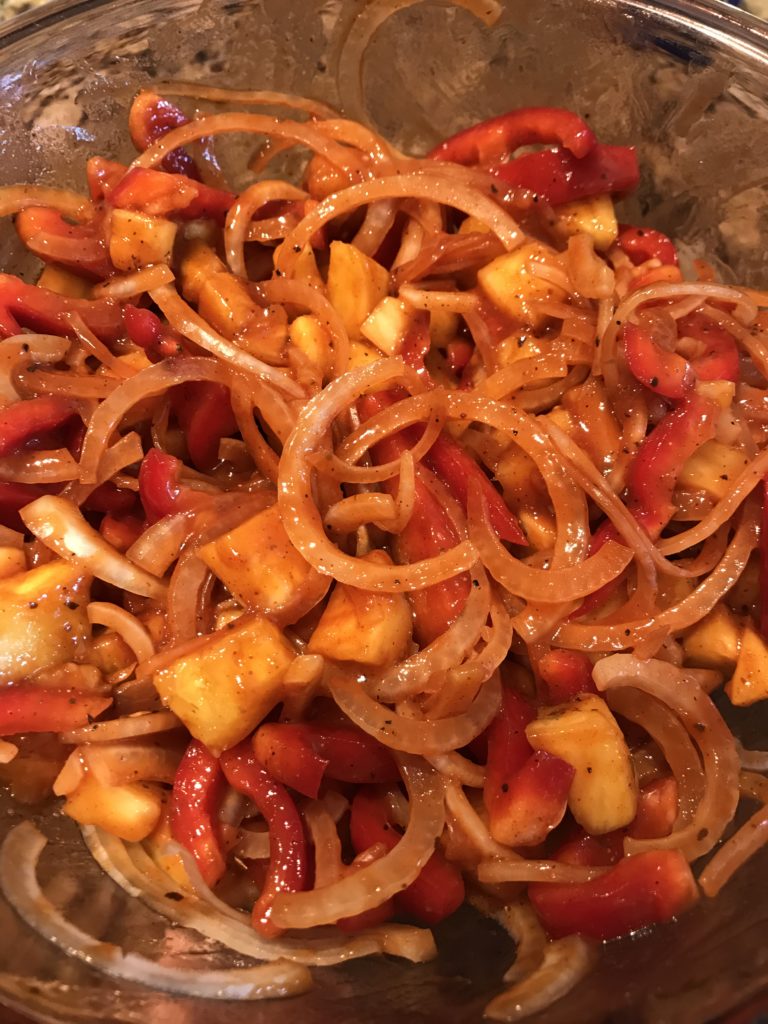 Now the fun part. Make four large sheets of heavy-duty foil about the size of a small, quarter-sized baking sheet. You could make one sheet and try that out first, and if it's the right size, make three more of the same size. I took a gamble and eye-balled it, but it worked. You just want to make sure you have about 2″ around the sides for the crimping. If it turns out you made your sheets too small, just make a larger one and place it under the original sheet. It's all good. There's no precise science to this. And if you don't have heavy-duty foil, just double line your packets to prevent leaking.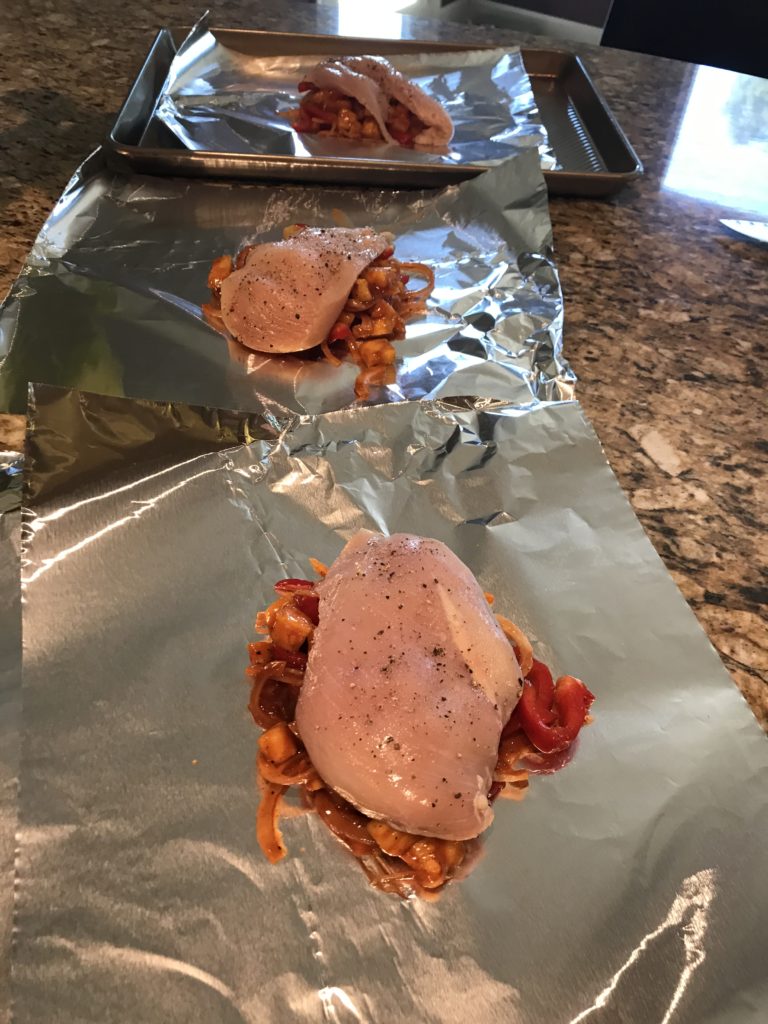 Scoop four equal servings of the pineapple mixture on each sheet. Take four boneless, skinless chicken breasts seasoned with salt and pepper, and place it on the pineapple mixture. Pour 1/4 cup of sauce on top of the chicken. Spoiler alert! This is a very saucy dish. I think I would have used less sauce in the pineapple mixture or just brush a little sauce on the chicken. For many of you, you'll serve this over rice and the quantity of sauce is perfect. Not so much for the rest of you.
Wrap up your chicken and pineapple mixture. Fold the long sides to the middle and crimp. Fold up the ends to seal. I found a really good article on the tbsp. that explains exactly how to do this, with pictures and everything. Mine are not perfect, and that's ok.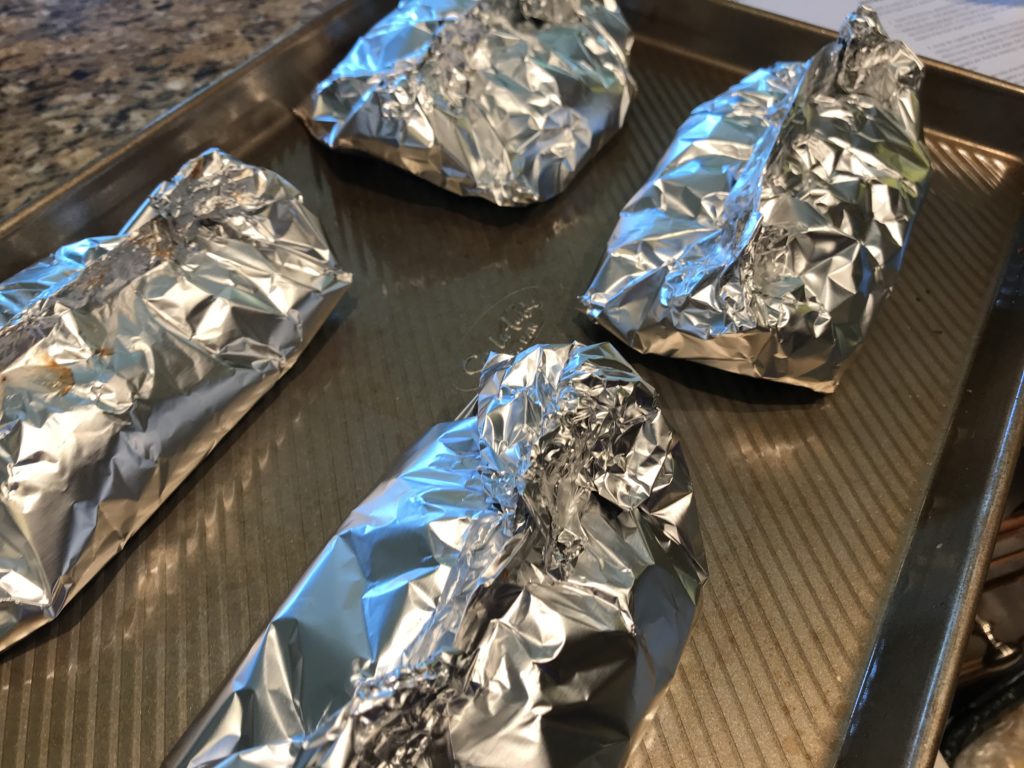 Place your packets on the grill or in an oven (on a sheet pan) for about 20-25 minutes until the chicken is cooked and the veggies are tender. I used my trusty meat thermometer to make sure the internal temperature chicken was 165F. Just poke through the top of the packet to check. You don't need to unwrap it. Yes, you will let some of the steam escape, but overall, no harm is done.
After it's cooked, let the packet rest for about 10 minutes, and then open the packets CAREFULLY to avoid getting a wave of unpleasant, hot steam in your face or burning your fingers. Serve all that goodness over rice or skip it. Deliciousness. The pineapple makes it sweet, but not too much. I think the milder white onion (instead of strong red) along with the red pepper (instead of bitter green) is a much better combination that complements the pineapple perfectly. The sauce gives it a tang to mellow the sweetness out. It's summer wrapped in a packet.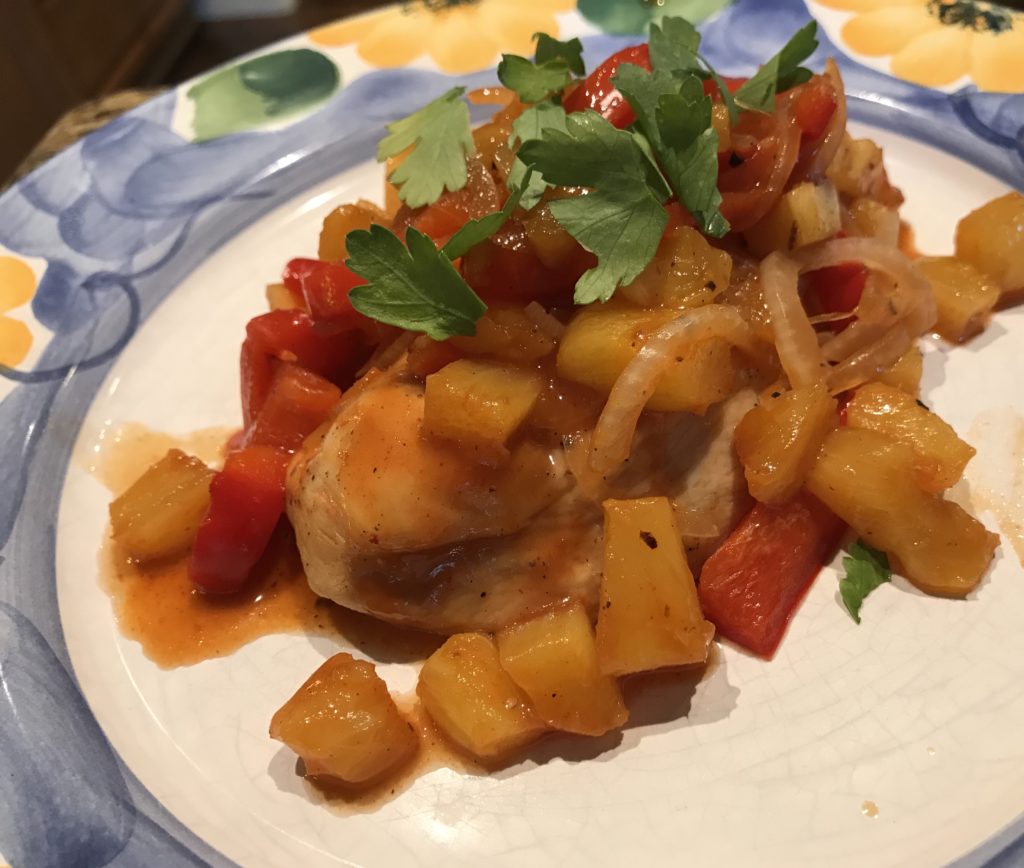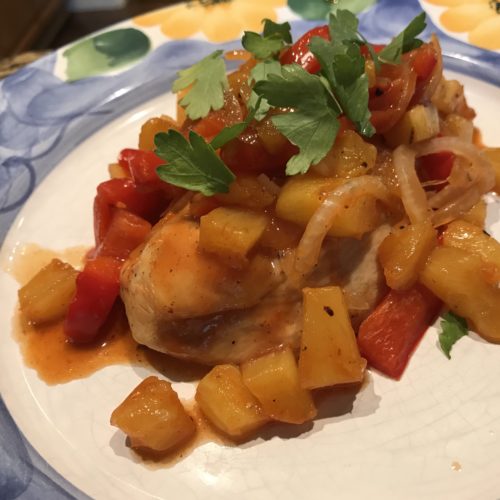 Pineapple BBQ Chicken Foil Packets
Ingredients
2

cups

pineapple

cut in chunks

1

medium

white onion

sliced

1

medium

red bell pepper

sliced

2

cups

barbecue sauce

divided

1

teaspoon

kosher salt

divided

1

teaspoon

freshly ground pepper

divided

4

6-ounce

boneless, skinless chicken breasts

flat parsley leaves

optional, for garnish
Instructions
Heat an outdoor grill to medium-high, direct heat. For oven cooking, preheat the oven to 425F.

Place chunked pineapple, sliced onion, and sliced red pepper in a large bowl. Add 1 cup of the barbecue sauce, 1/2 teaspoon of the kosher salt, and 1/2 teaspoon of the black pepper. Toss to combine.

Prepare 4 sheets of aluminum foil about the size of a quarter sheet pan, approximately 10 inches. Use heavy-duty aluminum foil or double wrap.

Divide the vegetable mixture among the 4 sheets of foil, leaving a 2-inch border on all sides. Season 4 boneless, skinless chicken breasts with the remaining 1/2 teaspoon kosher salt and remaining 1/2 teaspoon black pepper. Place a breast on each vegetable pile. Pour a 1/4 cup of barbecue sauce over each chicken breasts.

For each packet, fold the long sides of the foil to meet over the center, and then fold and crimp the short ends to create a sealed packet.

Grill cooking: Place the packets directly onto the grill grates, cover, and grill until the chicken is cooked through and the vegetables are tender, 20 to 25 minutes.

Oven cooking: Place on a rimmed baking sheet and roast at 425F for 20 to 25 minutes.

Let cool for 10 minutes before opening the packets and serving. When served, garnish with parsley (optional).