Jump to Recipe
Who doesn't like a quick weeknight dinner that is not only fast, but easy and tasty? Look no further! This one skips the Chinese take-out order, doesn't take long to prep, and comes together in no time.
I found this recipe on the kitchn. I did make a few changes. There was a mistake about how much oil to use so I fixed that. I made 3 cups of rice instead of 4 so I also decreased the number of cups of broccoli from 5 to 4. I probably didn't need to make rice/broccoli changes, but when I made the rice using my 1 cup rice to 1 1/2 cups of water ratio, it made 3 cups of rice and I wasn't about to make more rice. Call me lazy. I don't mind. By the way, if you have leftover rice around, use that. It turns out even better so I've heard.
After you make the rice, put it in the freezer to chill. You could make this the night before and chill it in the fridge, but that would require one to remember to do this. All the power to you if you plan ahead. Me? Not so much.
Next, chop up your veggies: broccoli and green onions. BTW, this is a great dish for vegetable haters. Not a zillion tiny pieces of vegetables to pick out. Mince a couple cloves of garlic. Grab your ground beef, soy sauce, sesame oil, and a couple eggs. Be sure to use sesame oil, not canola or olive. You want that nutty sesame flavor. You also need to beat your eggs.
Now you're ready to go. See what I mean about prep work? Super simple. It takes longer to cook the rice.
Heat up some oil in a wok or skillet, add the beef, and break it up until it's crumbled. Don't cook it all the way because you are going to continue cooking it with the broccoli. Throw in your chopped broccoli and cook that until it's tender and crisp, and the beef is fully cooked.
Add garlic and some soy sauce, and mix it up. About a minute later, put all of this in a large bowl and set aside.
Add some more oil to your pan and throw in your rice and some more soy sauce, season with pepper, and stir until everything mixed together and heated through. Don't ask me why you have to chill the rice only to heat it up again. I'm assuming it has something to do with not ending up with mushy rice.
Now the fun starts. Scoot the rice over to one side and add your beaten eggs to the other half.
Season with salt and pepper, and then stir until the eggs are almost set. Remove the pan from the heat, add your beef mixture that you set aside, throw in your green onions, and gently fold everything while making sure you break up large pieces of egg. Season it with more salt and pepper, and you are done!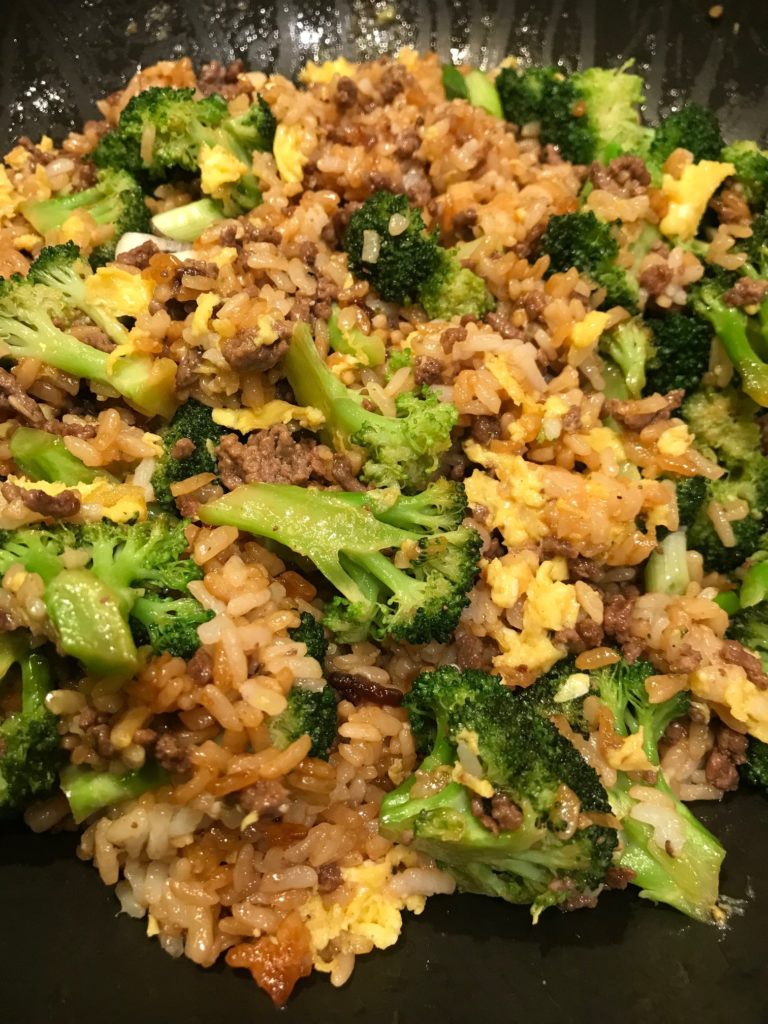 Dish it up in a bowl. If you're feeling super fancy, sprinkle more green onions on top.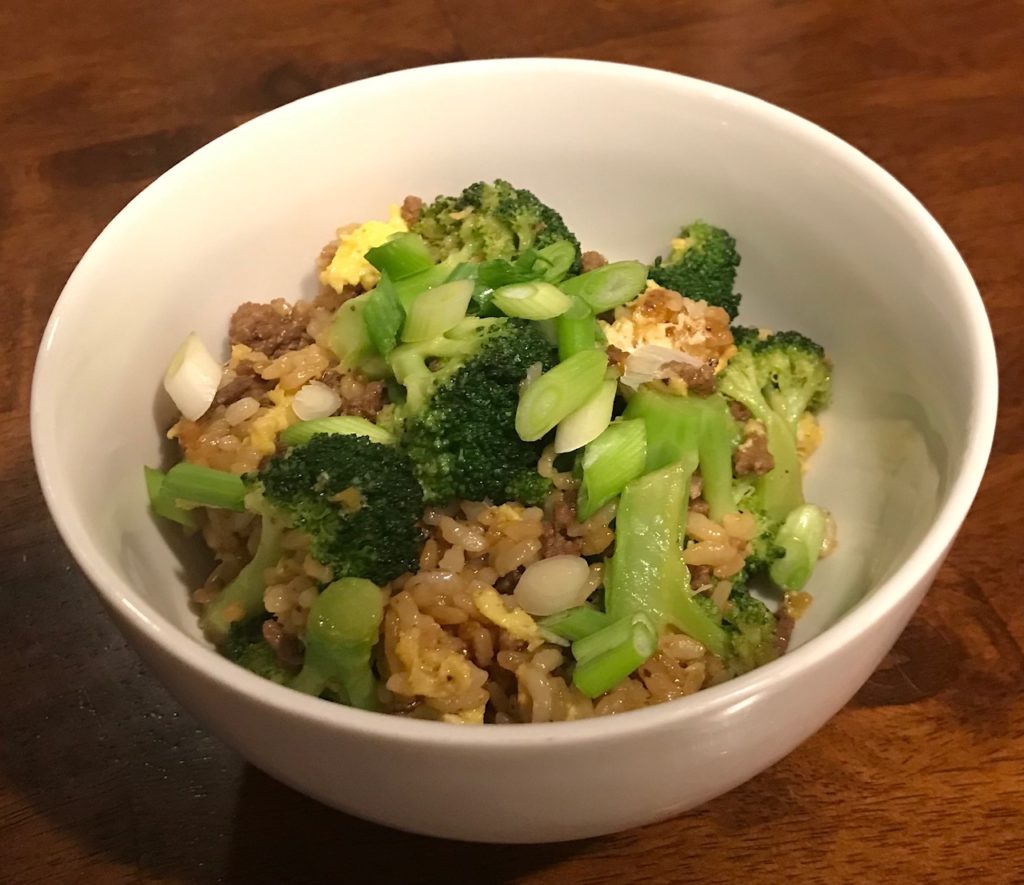 The boys loved this dish. The younger boy was obligated to eat one piece of broccoli. He claimed it was terrible, but not a bad way to cook it. I'll take that. I just loved how it came together so quickly. Definitely a make again.
Beef and Broccoli Fried Rice
Ingredients
1

cup

rice

or 3 cups cooked

2

tablespoons

sesame oil

divided

8

ounces

ground beef

4

cups

broccoli

cut into bite-sized pieces

2

cloves

garlic

minced

3

tablespoons

soy sauce

divided

freshly ground pepper

2

large

eggs

lightly beaten

Kosher salt

3

green onions

sliced
Instructions
Cook 1 cup of rice with 1 1/2 cups of water. Chill. You can also used leftover rice.

Heat 1 tablespoon of the oil in a large nonstick skillet or wok over medium-high heat until shimmering. Add the beef, break it up into small pieces with a spoon, and cook until halfway cooked through, about 2 minutes. Add the broccoli, cover, and cook, stirring every minute or so, until the broccoli is crisp tender and the beef is cooked through, about 4 minutes total.

Add the garlic, drizzle in 1 tablespoon of soy sauce, stir to combine, and cook for 1 minute. Transfer the mixture to a large bowl. Set aside.

Add the remaining 1 tablespoon of oil to the pan over medium-high heat. Add the rice and the remaining 2 tablespoons of soy sauce. Season with pepper and cook, stirring occasionally, until the rice is heated through, about 4 minutes.

Push the rice to one half of the pan and add the beaten eggs to the other half. Season the eggs with salt and pepper. Stir occasionally with a rubber spatula until almost set, 1 to 2 minutes. Remove the pan from the heat, add the broccoli and beef, sprinkle with the green onions (leave some for garnish), and gently fold everything together with the rubber spatula, breaking up any large pieces of egg. Taste and season with salt and pepper as needed. Garnish with green onions.