Jump to Recipe
Lasagna sort of seems daunting and time-consuming. There's a lot of work involved with all those layers. Cooking the noodles, making the meat sauce, prepping the ricotta mixture…you get the idea. But the reward really is worth it. It's so comforting and tasty. It's a great dish to take make for parties, or take to a new parent or sick friend who needs a night off from cooking. If you're into meal prepping, you can make a couple pans of lasagna to keep in the freezer. Lasagna is easy to pop in the oven for those nights when you don't want to lift a finger or you have surprise guests. Why not buy a frozen lasagna instead? Because it's just not as good as homemade. Period. And it's way cheaper to make your own.
I found some ground pork sausage in my freezer, which I wanted to use up, so I looked for a recipe with that in mind. I found a good one on The Spruce Eats, but changed it up a little. I prefer a saucier meat sauce using fire-roasted tomatoes. I've had some bad experiences with dry lasagna so I'm on the school that you can't have too much sauce. As a result, my lasagna isn't the prettiest, but it definitely tastes good.
Grab your ingredients and get to work. Smash your garlic. Open those cans. Measure out the seasonings. Chop the parsley. Shred the cheeses. Yes, lots of prepping.
Brown the sausage and then add garlic, tomatoes, seasonings, and tomato paste. You need to let it simmer for at least 30 minutes. The longer the better, really. Tomato paste has a raw taste that needs to be cooked out for at least 30 minutes. Like tasting baking chocolate (the kind without the sugar), tasting your tomato paste is not something you want to try. Yuck. So cook it for a while to get that tomato flavor going.
While this is going on, boil your noodles al dente. Do not overcook them or you'll end up with mushy noodles. This recipe doesn't use no-cook noodles, but they would probably work. Just put them directly in your lasagna. For a lower carb alternative, I like using Dreamfields lasagna noodles. Although not a true low-carb pasta, they are higher in fiber and more filling. Just don't eat half a pan of lasagna! I've used them before and they hold up really well. You can also use thin strips of zucchini, but is that really lasagna? Probably not.
Make your ricotta cheese mixture last. When your meat sauce and noodles are done, the fun starts! I made half the original recipe so use a 9 x 9 x 2 inch casserole dish and start with a layer of noodles. Cover the noodles with a layer of mozzarella cheese. If you're like me, be sure to taste the cheese to ensure it's good and not poisoned. Yes, I love cheese.
Add a layer of ricotta. Don't get obsessive about it. Dollop spoonfuls, spread it out until the edges are touching, and call it good. It'll all blend together anyway.
Next a layer of meat sauce.
Do it all over again with another layer of noodles, ricotta, and meat. Top it all with mozzarella cheese.
Bake it in the oven until the cheese is all melty on top, about 30-40 minutes.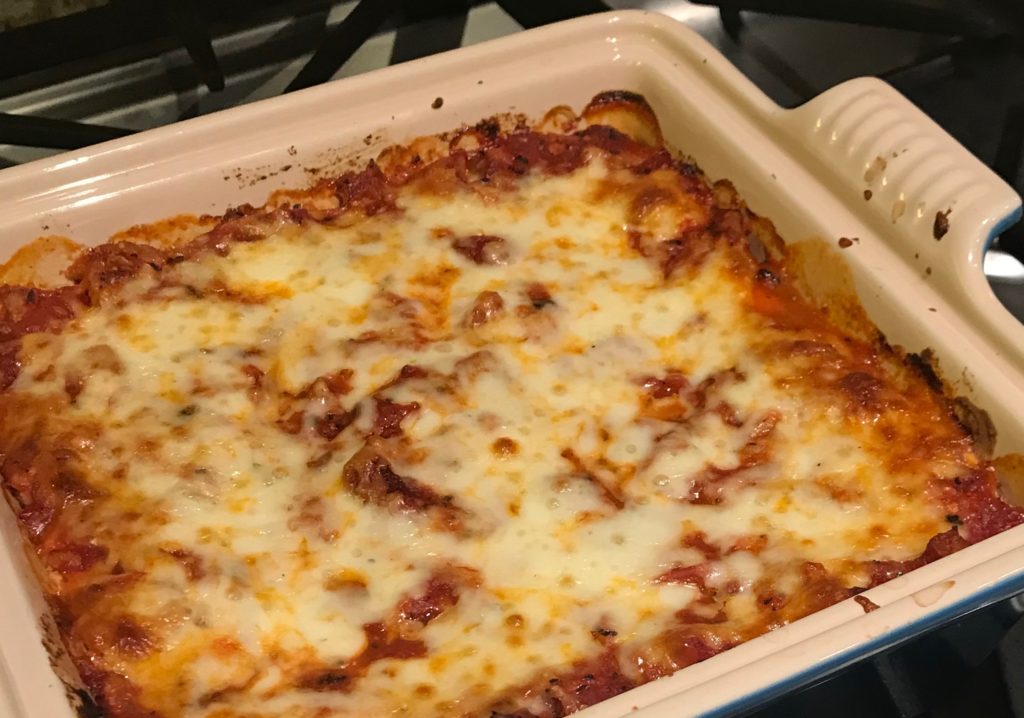 Let it rest a bit so you don't burn the rough of your mouth when you take a bite. It also helps the cheese to solidify a little, but that didn't seem to help my case. A hunk of lasagna does not photograph well, but tastes delicious so who cares?
Italian Sausage Lasagna
Ingredients
1/2

pound

Italian pork sausage

1

clove

garlic

minced

14.5

ounces

fire roasted tomatoes

crushed or diced

1

teaspoon

dried basil

1/2

teaspoon

dried oregano

1 1/4

teaspoons

kosher salt

divided

6

ounces

tomato paste

6

lasagna noodles

1 1/2

cups

ricotta cheese

1/3

cup

Parmesan cheese

shredded

2

tablespoons

fresh parsley

chopped

1

large

egg

1/4

teaspoon

pepper

8

ounces

mozzarella cheese

shredded
Instructions
Preheat the oven to 375 F.

In a skillet, brown the sausage and then drain the excess fat. Add the garlic, tomatoes, basil, oregano, 3/4 teaspoon salt, and tomato paste. Simmer, uncovered, for 30 minutes. If the sauce is too thick, add a little water.

Meanwhile, cook the lasagna noodles al dente, according to the package directions.

In a bowl, combine the ricotta cheese, Parmesan cheese, parsley, eggs, 1/2 teaspoon salt, and pepper.

In the bottom of a 9 x 9 x 2-inch casserole dish, place one layer of the noodles.

Cover the noodle layer with a layer of mozzarella cheese, and then add half of the ricotta mixture over the mozzarella. Add half of the meat sauce over the ricotta cheese layer. Repeat the layers (starting with the noodles), ending with mozzarella cheese.

Bake for 30 to 40 minutes in the preheated oven. Remove the lasagna from the oven and allow it to rest a few minutes before serving.