Jump to Recipe
I really love shrimp, but since my bad prawn experience and that I've tested positive for a shrimp allergy, I decided I better stay away from the whole crustacean family. I know there's a difference between shrimp and prawns, but I don't trust that the labels are being used correctly. I'm probably being too extreme because there was a time when I ate shrimp cocktail with wild abandonment. But a potential trip to the ER is not my idea of a good time so I think this isn't much of a sacrifice.
As a result of my recent distrust of shrimp, I never make it anymore, which disappoints my husband a little. Plus with his innocent "chicken again" comment about dinner, I felt a little sorry for him. On top of that, my super picky son actually likes shrimp so I don't want to stop serving it. Supposed he suddenly stops liking it?!
I've been making a lot of beans lately. I had a lonely single can of beans staring at me from the pantry. I needed to use it somehow. I googled shrimp and beans and found a delicious Kitchn recipe with the world's longest name. It looked really easy to make. Bonus points.
When you buy your shrimp, keep in mind the cleaning situation. I usually splurge to buy shrimp that has been cleaned, have no shells, and deveined. Some would say to leave the shells on for more flavor, but that's not my style. I don't want to spend more time preparing the shrimp than actually cooking the shrimp.
Gather your ingredients. Mince some garlic and then slice even more. It's definitely going to be garlicky. Zest a lime, cut it in half, and set the halves aside for later. I love using lime even more so than lemon with shrimp. Reminds me of shrimp tacos. Ok, this is going to be a little harder than I thought. Must get those delicious thoughts out of my head as I play the world's smallest violin.
Chop up fresh cilantro. Set half aside and with the remaining half, add your seasonings (I used a little less red pepper flakes, but I encourage you to use the full amount) and some olive oil. You're basically making a delicious marinade.
Mix it up and add your shrimp to it. Let it marinate for about 15 minutes. Meanwhile stage the rest of your ingredients. You want to be prepared. Shrimp cooks super fast and the worst thing you can do is overcook it. In fact, I usually cook it a touch under (like 30 seconds) because it'll continue cooking when you remove it from the heat.
Start on your tomatoes. I like using a cast iron pan, but any skillet will do.
Cook them until the skins pop. Add shrimp and cook for 1 minute. The shrimp will start to turn from translucent gray to a hint of opaque pink. No more than that! I would have taken a picture for you, but I would have overcooked the shrimp. Throw in the beans and sliced garlic. Cook for 3 minutes. Remove from the heat immediately. The shrimp should no longer be gray at all. It'll be slightly pink on the outside, opaque inside, and firm (not chewy or rubbery).
Serve over rice with a sprinkle of cilantro.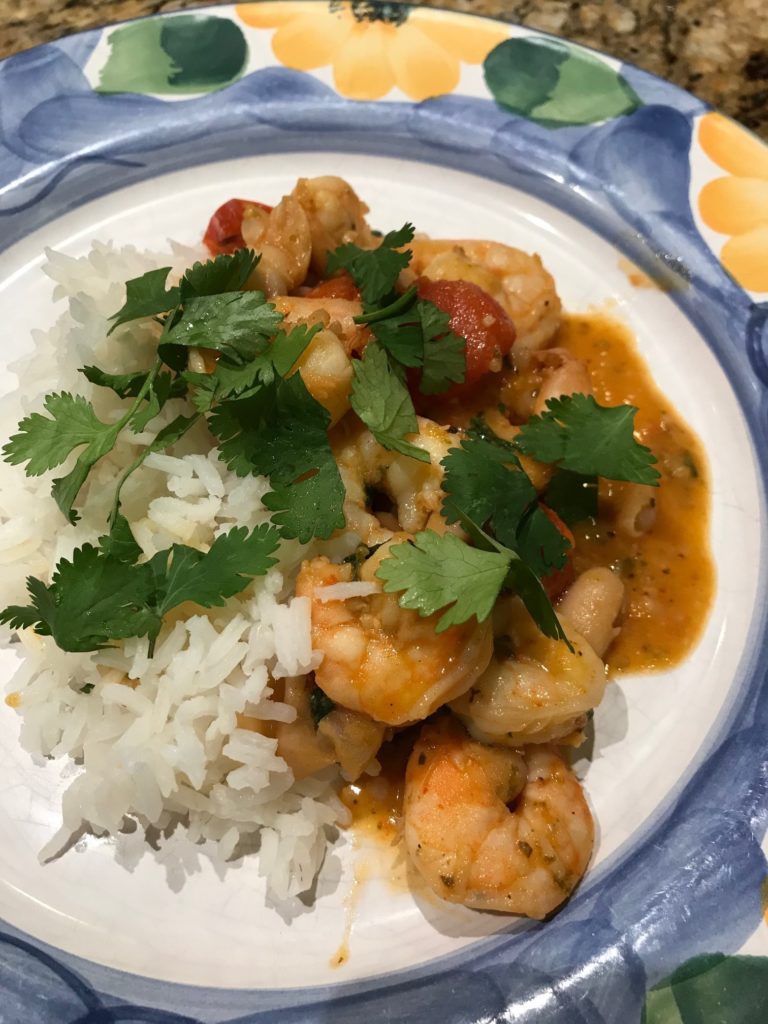 Because I can't taste it, I had to depend on the boys for feedback. My husband made me laugh when he said the dish was a "medley of flavors." I guess he's been paying more attention to my cooking shows than I thought. The boy thought the sauce was weird (the tomatoes probably freaked him out), but thought it was a "make again" meal. Two thumbs up!
Garlicky Sauteed Shrimp with Creamy White Beans and Blistered Tomatoes
Ingredients
5

large

garlic cloves

divided

1

medium

lime

1/2

cup

fresh cilantro

divided

1/2

teaspoon

dried oregano

1/2

teaspoon

paprika

1/4

teaspoon

red pepper flakes

1

teaspoon

kosher salt

5

tablespoons

olive oil

divided

1

pound

medium peeled and deveined uncooked shrimp

1

pint

grape tomatoes

about 10 ounces

15

ounces

cannellini beans

drained and rinsed
Instructions
Grate 4 garlic cloves into a large bowl. Thinly slice the remaining 1 garlic clove and set aside. Finely grate the zest of 1 medium lime into the bowl, and then cut the lime in half and set aside. Coarsely chop 1/2 cup fresh cilantro leaves and tender stems. Place half in the bowl and reserve the remaining half.

Add dried oregano, paprika, red pepper flakes, kosher salt, and 2 tablespoons of the olive oil to the bowl. Stir to combine. Add 1 pound peeled and deveined uncooked shrimp, and toss to coat. Let the shrimp marinate 10 to 15 minutes at room temperature.

Heat the remaining 3 tablespoons olive oil in a 12-inch cast iron or heavy-weight skillet over medium-high heat until shimmering. Add 1 pint grape tomatoes, and then season with kosher salt. Cook, stirring occasionally, until the skins start to pop, about 2 minutes.

Add the shrimp with marinade and stir to combine. Cook for 1 minute. Add the drained/rinsed beans and sliced garlic. Cook, stirring every minute or so, until the shrimp are just cooked through and the tomatoes have burst open, 3 minutes total.

Remove from the heat. Season with kosher salt and squeeze the lime halves over the shrimp. Garnish with the reserved cilantro, and serve immediately over rice.