Jump to Recipe
I've been sharing a lot of recipes that use my favorite kitchen toys. I know not everyone has a slow cooker, pressure cooker, and air fryer so it's time for something more conventional. Sit down for this one. The oven. I know. Scandalous.
I really like sheet pan recipes when they work, like those Sheet Pan Chicken Fajitas I posted. Here's another one that you need to try. It's a super easy week night meal with everything you need: chicken, potatoes, and green beans. It's perfect. Its lemony, cheesy, garlicky goodness is sure to please everyone. Did I mention it's easy to make?
If you don't like potatoes or green beans, skip the one you don't like. You can also try using other veggies, such as carrots, bell peppers, sweet potatoes, etc. Just be aware that the cooking times might vary.
In a bowl, mix an egg, lemon juice, garlic, parsley, and seasonings. This will be your marinade and the liquid to help your dredge stick to your chicken. Marinade the chicken for 30-60 minutes. Try not to skip this part, but don't marinade longer than this (like overnight) or your chicken might end up tough.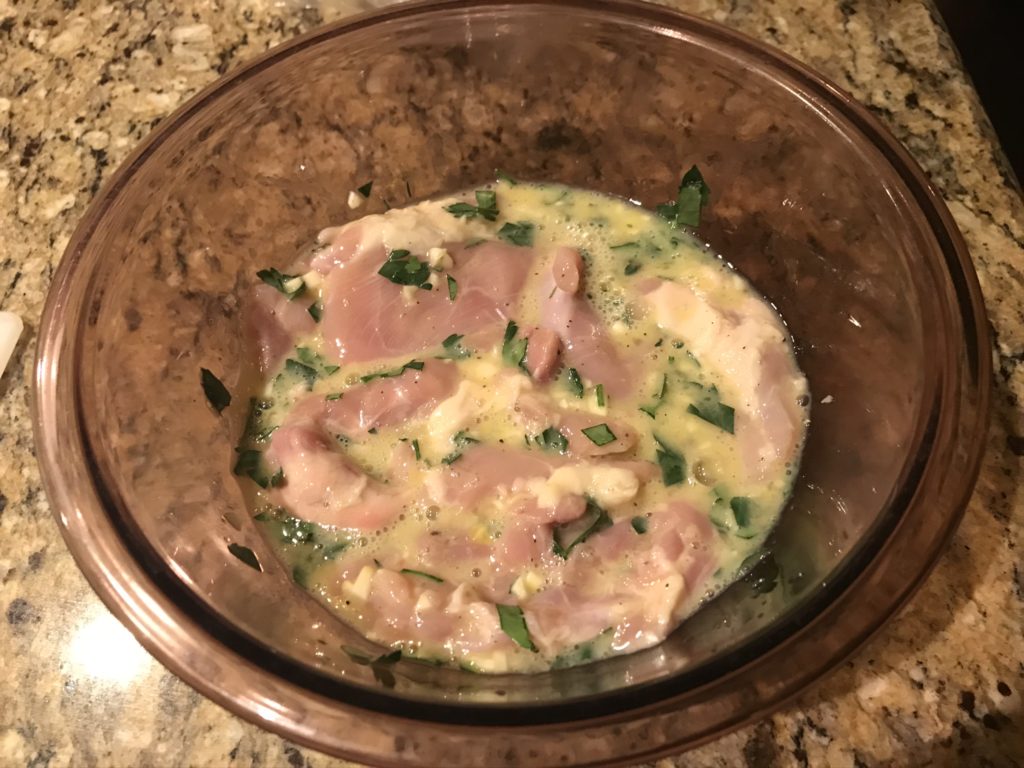 By the way, I know I wasn't going to talk about kitchen toys, but I really like this lemon squeezer so here's a picture of it. It doesn't take up a lot of space and it keeps the seeds out of your food. You should buy one. No pressure.
While you wait, it's time for the veggies.
Let's pause to express my opinion about dealing with green beans. Hate it. It takes soooooo long to string, trim, and cut them into thirds. But I love green beans. What's a girl to do? You can reduce the prep time by buying bagged trimmed green beans. This is a good short-cut. Alas, I never find the beans to be as good as the fresh ones, but I will resort to trimmed green beans if the fresh ones are stringy. There's no shame in this. This time I decided to use fresh beans and do all the work myself. Yes, sometimes I'm a show-off.
Toss your potatoes in half of the butter/garlic mixture and the green beans in the other half.
When your chicken is done marinading, combine breadcrumbs and Parmesan, and then dredge the chicken in the mixture.
Don't be like me and forget to spray your foil-lined baking sheet with cooking spray. Generously spray the sheet. Then place your chicken on the sheet and surround them with potatoes. Bake!
After 15 minutes, flip your chicken and add your green beans. Be sure to embrace the amazing aroma of lemon and garlic wafting through your house. Also enjoy the fact that your entire dinner is in the oven and you don't have to lift a finger to make a side dish.
Cook for another 10-15 minutes on broil until the chicken is golden and the veggies are cooked through.
Sit back and watch as your family is impressed with your ninja like cooking skills.
Sheet Pan Lemon Parmesan Chicken and Veggies
Ingredients
For the chicken
1

large

egg

1 1/2

lemons

juiced

3

teaspoons

minced garlic

1/2

tablespoon

fresh parsley

chopped

1/2

teaspoon

salt

1/2

teaspoon

pepper

1/2

cup

breadcrumbs

1/3

cup

grated Parmesan cheese

4

skinless, boneless chicken thighs
For the veggies
1/2

pound

potatoes

quartered

1/3

cup

butter

melted

3

teaspoons

minced garlic

salt

to taste

3/4

pound

green beans

trimmed and cut into thirds
Instructions
Preheat the oven to 400F. Grease a baking sheet with cooking spray and set aside.

In a bowl, whisk together an egg, lemon juice, garlic, and salt. Place the chicken in the egg mixture and marinade in the refrigerator for 30-60 minutes. You can skip this step, if necessary.

Wash and quarter the potatoes. Wash, trim, and cut fresh green beans into thirds. Pour half of the butter mixture over the potatoes and the other half over the green beans. Toss to coat.

In a bowl, mix breadcrumbs and Parmesan cheese. Dredge the marinaded chicken in the breadcrumb mixture, making sure the crumbs stick to the chicken, pressing if needed.

Place chicken and potatoes on a cooking sheet, arranging the potatoes around the chicken in a single layer.

Bake in the oven for 15 minutes.

Remove the baking sheet from the oven and flip chicken. Move the potatoes to one side and place the green beans around the chicken.

Turn the oven to broil. Return the baking sheet to the oven and broil for 10-15 minutes. The chicken should be cooked to 165F, golden, and crispy. The potatoes and green beans should be cooked though.

Sprinkle with fresh chopped parsley and serve.
Feel free to share this recipe: