Jump to Recipe
This is one of my husband's favorites. I'm not sure why. I mean, it's good, but it's nothing like REAL chicken cordon bleu with the fancy sauce. But it's simple to make and delicious so let's get going.
A couple of tips. Buy thinly sliced chicken breasts or pound them flat. Trust me on this one. They need to be the same thickness throughout. Next season without fear.
Layer with Swiss cheese and ham. I like to use a lacy Swiss cheese (did I mention earlier that I love cheese?) that you can get from the deli. It has a mild, nutty flavor that melts well. Your standard Swiss cheese works well too.
If there is a tricky part, here it is. Roll them up and secure with two toothpicks. Don't worry if they flop open. Just try again. Don't get frustrated. They are slippery little suckers. Tell them who's boss. When you are done, they should end up resembling something like this.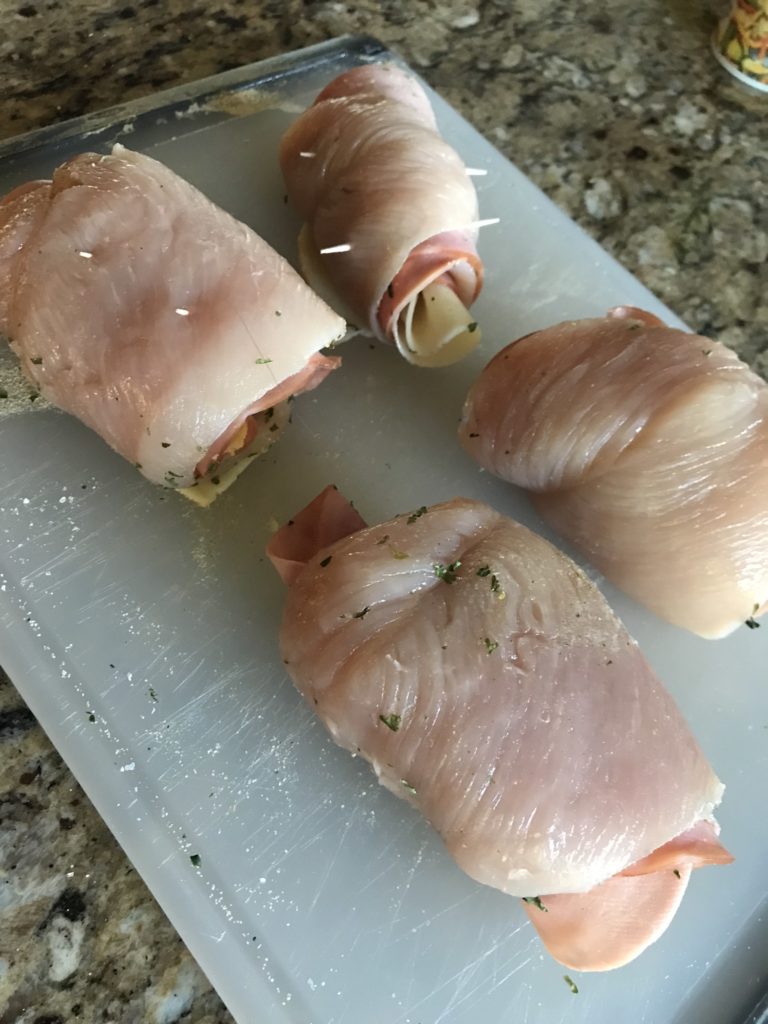 Spray some cooking oil over the chicken to help the bread crumbs stick. Use whatever bread crumbs you prefer. I like Italian seasoned panko for that extra crunch, but it's really just personal preference.
Pop them into the oven.
Now, I want you to meet your new best friend, the instant-read thermometer. Everyone must own one of these. Choose whatever brand sounds good to you, but unless you have infrared vision to gauge internal temperatures, you need this gadget. Trust me on this one.
When it's done, your chicken should look lightly golden brown with an internal temperature of 165F. Or less. Now this is a topic of debate. I try to pull it out a little sooner and let them rest to avoid dry chicken. But I don't want to get you sick so you do what suits you.
What I love about this dish is that it's easy, fancy looking, and tasty. Your friends will be impressed.
Chicken Cordon Bleu
Ingredients
4

chicken breasts

sliced thinly or pounded evenly

12

slices

thinly sliced deli ham

6

slices

thinly sliced Swiss cheese

1/2

tablespoon

dried parsley

1/2

teaspoon

garlic powder

1/2

teaspoon

white pepper

1/2

cup

bread crumbs

cooking spray
Instructions
Lay chicken breasts flat. Sprinkle parsley, garlic powder, and white pepper over chicken. Use suggested amounts or season to taste.

Stack ham and cheese slices on them.

Season over ham and cheese again (optional, if you love strong flavors).

Roll chicken and secure with toothpicks.

Spray with cooking oil and roll in bread crumbs.

Place on nonstick baking sheet. Cook at 350F for 35 minutes, or until interal temperature reaches 165F.
Feel free to share this recipe: