Jump to Recipe
Anything balsamic is one of my favorite things. I used to think balsamic was this watery vinegar stuff, but I've since learned that it should be syrupy and packed with flavor. Because it's so flavorful, it makes an awesome marinade for practically everything from chicken and beef to vegetables and potatoes. It's this wonderful sweet, tangy glaze that comes in a bottle that makes food magically tasty. Win win.
Balsamic chicken also reminds me of Thanksgiving so it's a great recipe to share the week before. The secret ingredient is sage, which I'm a big fan of when it comes to turkey day. Sage should have a big presence on Thanksgiving and it certainly does with this chicken recipe.
Start with fresh garlic and herbs, like rosemary and sage (of course). I used dried oregano because I was out of fresh.
In a large bowl, mix your garlic and seasonings with balsamic vinegar, olive oil, and a little sugar. Drop your chicken in. Combine it around with your hands until the chicken is well coated. Throw it on a foil-lined baking sheet. That's it. You don't have to even wait to marinade.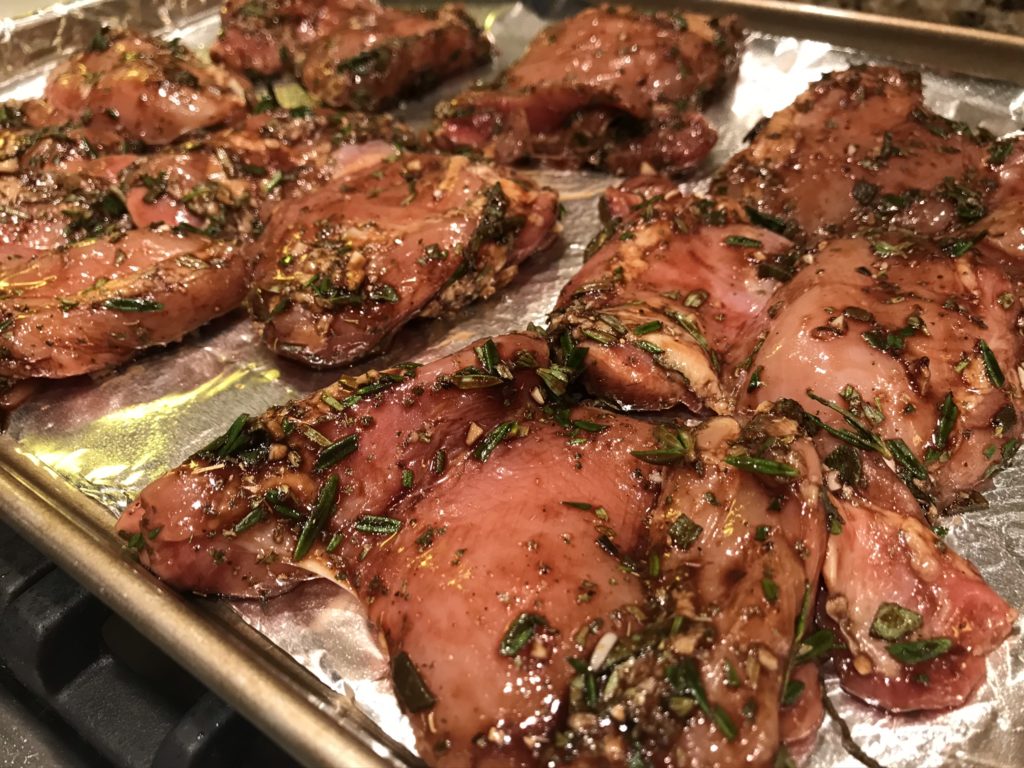 Bake for about 25 minutes and out comes dinner. Serve with your favorite sides. Now everyone lives happily ever after, or until the next meal.
Balsamic Chicken
Ingredients
8

4 oz pieces

boneless, skinless chicken thighs

kosher salt

black pepper

cooking spray

3

tablespoons

balsamic vinegar

1

tablespoon

olive oil

2

cloves

garlic

minced

1/2

teaspoon

sugar

1

tablespoon

fresh rosemary

chopped

1/2

teaspoon

dried oregano

1/2

tablespoon

fresh sage

chopped
Instructions
Season chicken with salt and pepper. Line a large baking sheet with foil. Spray foil with cooking spray.

Combine balsamic vinegar, olive oil, garlic, sugar, rosemary, oregano, and sage in a large bowl.

Add chicken and mix well until chicken is coated. Using your hands is the easiest.

Arrange chicken onto the prepared baking sheet in a single layer.

Bake for about 25 minutes or until the chicken is cooked through.
Feel free to share this recipe: