Jump to Recipe
After reading an article about wild rice, my husband asked me if I could cook some wild rice for dinner. I completely jumped on the opportunity. You see, as much as I adore my husband, he's not a foodie. He likes his steak. He likes tasty food. But he would be just as satisfied if he could skip the whole eating process. It takes away from his (gaming) hobbies whereas eating and making food is my hobby. So when he asked for wild rice, I was pretty excited.
I searched high and low for a tasty wild rice recipe. I was inspired by the weather. It's been rainy and cold so therefore, soup weather. I decided on a soup recipe from Food and Wine. I stuck to the recipe, but if I had to do it over again, I'd leave out the cream. Don't get me wrong, the cream makes it…creamy (duh). But apparently some of us do not like creamy soups except for clam chowder. And maybe potato and leek. Whatever. Let's just leave it at that.
First, let's talk about wild rice. What the heck is it exactly? Wild rice is a grain and distant cousin to white and brown rice. Like other rices, wild rice is the seed from a type of grass grown in Asian and the US, but not the same grass of other rices. It's more common in the US and pretty healthy for you. High in fiber and protein. Full of antioxidants. That sort of thing. It's nutty and chewy so seriously, it does feel like you're eating a superfood.
To make this recipe, I needed 4 cups of cooked chicken. You can use a rotisserie chicken or any leftover chicken, but I didn't have any so I cubed two large chicken breasts, seasoned them with salt and pepper, and cooked them until they were no longer opaque. I didn't want to cook it beyond that because I knew they'd continue to cook in the soup and my family is adverse to dried out chicken. So picky.
While the chicken is cooking, I chopped my veggies. It's important that your carrots and celery are the same thickness, about a 1/2 inch.
In a dutch oven, I melted butter and then added the veggies and seasonings.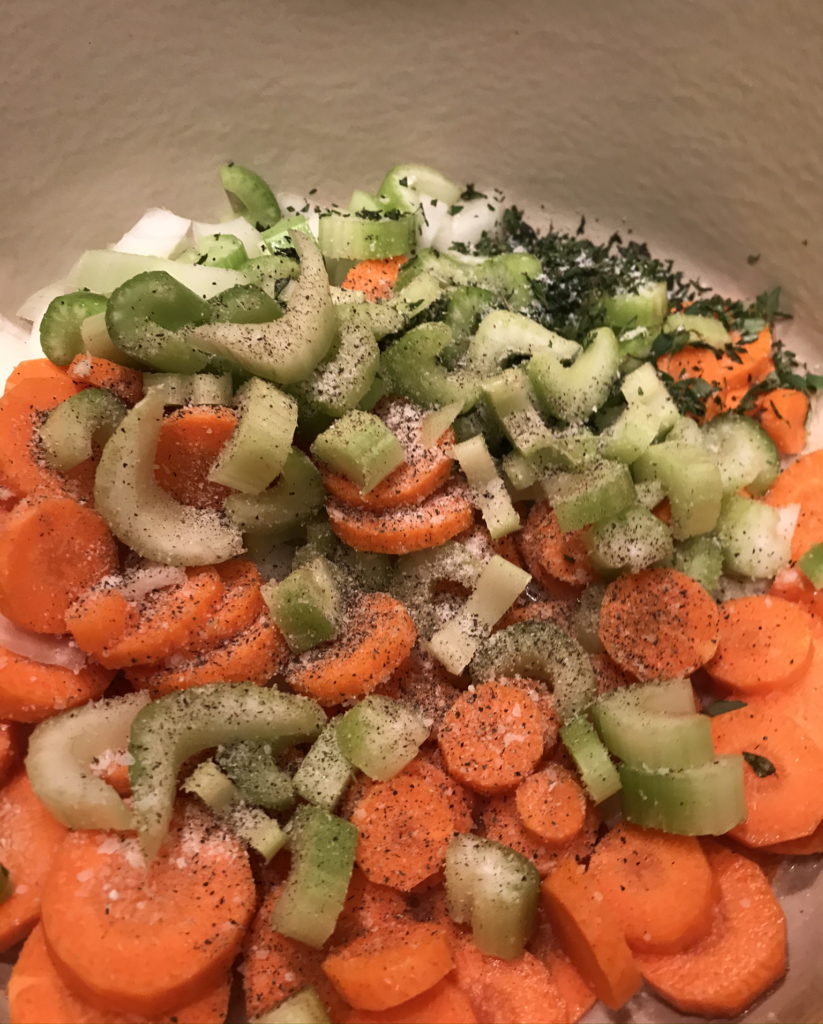 Stir it until everything's starting to soften, but not too much. You want the carrots to be barely tender or they'll end up mushy at the end. Note that you will be cooking this soup for another 45 minutes. Add flour and cook for another 3 minutes. Add rice and stock. After boiling, bring it down to a simmer and let it do its thing for 30 minutes.
Your veggies will continue to soften and your rice will begin to cook. Add chicken and let it simmer for 15 minutes until the wild rice is tender. If you've never had wild rice before, here's a tip. It won't be as tender as other rice, but chewy and you can bite through it. At the very end (or not), stir in the cream. Add some salt and pepper, and then serve. This is a really hearty soup that will fill you up and not leave you hungry.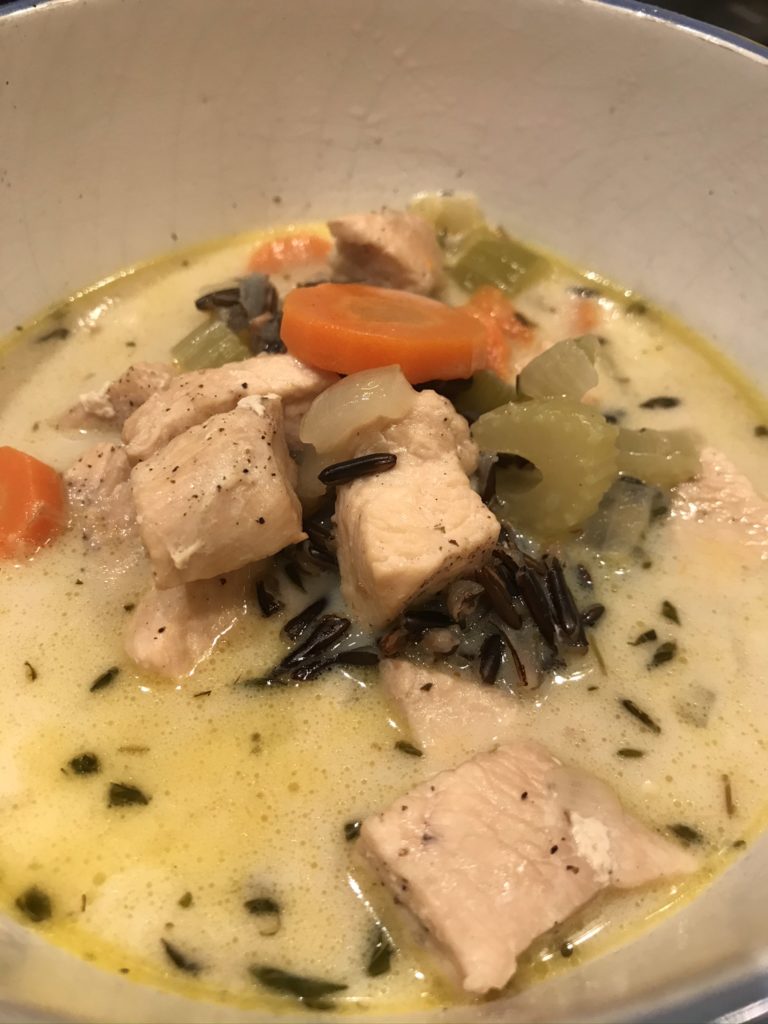 Chicken and Wild Rice Soup
Ingredients
4

tablespoons

butter

3

celery stalks

cut into 1/2-inch pieces

2

carrots

cut into 1/2-inch pieces

1

medium

onion

chopped

2

cloves

garlic

minced

1 1/2

teaspoons

thyme

finely chopped

salt and pepper

1/4

cup

all-purpose flour

5

ounces

wild rice

about 1 cup

2

quarts

chicken stock

2

cups

water

4

cups

cooked chicken

cut into bite-size pieces

1

cup

heavy cream

optional
Instructions
In a dutch oven (or large saucepan), melt the butter. Add the celery, carrots, onion, garlic, thyme and a generous pinch of salt and pepper. Cook over moderate heat, stirring occasionally, until the vegetables just start to soften, about 10 minutes. Sprinkle the flour over the vegetables and cook, stirring, until evenly coated and lightly browned, about 3 minutes.

Add the wild rice to the saucepan and gradually stir in the stock and water. Bring to a boil, and then simmer over moderately low heat, stirring occasionally, until the vegetables are tender, about 30 minutes.

Add the chicken and simmer, stirring occasionally, until the wild rice is tender, 10 to 15 minutes longer. Stir in the cream (optional – if you want a creamy soup) and season with salt and pepper. Ladle the soup into bowls and serve.
Feel free to share this recipe: