Jump to Recipe
My son just finished a home ec class at his middle school. He learned how to make quesadillas and said they tasted good. I was surprised because when he was 5, he suddenly declared he disliked cheese quesadillas and would only eat grilled cheese. On raisin bread. Without the crust. Sigh.
When I asked him why the sudden acceptance towards quesadillas, he said it was because I left out the chicken. Seriously? All this time, it was missing chicken. I was determined to make the best damn chicken quesadilla for my picky kid.
Making chicken quesadillas barely requires a recipe. It's just meat and melted cheese, sandwiched between a couple tortillas, right? How hard can it be? The most difficult part is flipping it over without losing half of the filling, but there's a trick to prevent that. Regardless, I wanted to get some inspiration, which I found in The Pioneer Woman's recipe. And then completed changed it up.
I recommend making the pico de gallo first. The longer it sits, the better it'll taste so feel free to make this the day before.
To make the pico de gallo, cut up six Roma tomatoes with a serrated knife. I usually cut off the stem end, and then use the flat stem end side to slice the tomato down the middle. Face the flat side down on the cutting board and cut lengthwise into strips, and then dice across. Don't worry if the pieces are not perfect. People will just be impressed that you made fresh pico. Of course, you could buy it pre-made and pour it in a bowl. I won't judge.
I know this is incredibly time consuming so trust me when I say it goes much faster (and safer) if you use a serrated knife, which cuts through the tomato skin easily. This prevents the knife from slipping around so you don't accidentally cut yourself.
Chop up some onions and cilantro. It looks like a lot of cilantro, but it wilts easily (sort of like spinach). Then, finely dice a jalapeño with the white membrane for more heat. Scrape out out the membrane first if you want less heat.
Squeeze a lime over it all and mix. Now you have pico de gallo. Yes, it's that easy. This recipe makes a lot so you'll have plenty for leftovers on chips or even a salad.
After that's done, chop up your chicken and then in a bowl, season it with salt, pepper, and taco seasonings. Sauté it in a large skillet until it's cooked through, but not overdone. Don't forget you'll be cooking it some more later. Remove the chicken.
Slice up some veggies and throw them in the same pan that you cooked the chicken in. I like using colored peppers and red onion, but you can use any veggie you you like. Sauté them in the pan until the peppers are slightly tender. They might have a few char marks, which is fine.
Confession time. This is when I should have taken another picture to show you what to look for, but I was busy nibbling on the chicken. Sorry. My bad.
Turn down the heat (or your tortillas will burn) and melt some butter on the skillet. You could use a separate griddle to make more at a time, but I like having only one pan to clean.
Lay down a tortilla and add a ton of cheese. Adding the cheese first acts like a glue and helps the chicken and veggies stay inside. Place the chicken and veggies on top and pile on more cheese. Cover with another tortilla. This makes a very large quesadilla so if you want to make a smaller one, feel free to place the cheese, chicken, and veggies on one half of the tortilla and fold it over like an omelet. I have to admit that this makes it easier to flip too.
After a couple minutes, take a peek underneath to see if the tortilla is golden. When it is, using the biggest spatula you own, hold your hand over the center of the quesadilla and expertly flip that sucker in one single motion. Do not be hesitant or tentative. You want to be quick about it or you might lose some chicken, which isn't the end of the world, but it's nice when every stays in its proper place.
Cook for another couple of minutes until the other side is golden and the cheese is completely melted (it's ok to lift the top to check). Slide the quesadilla onto a plate and scoop a pile of pico on the side.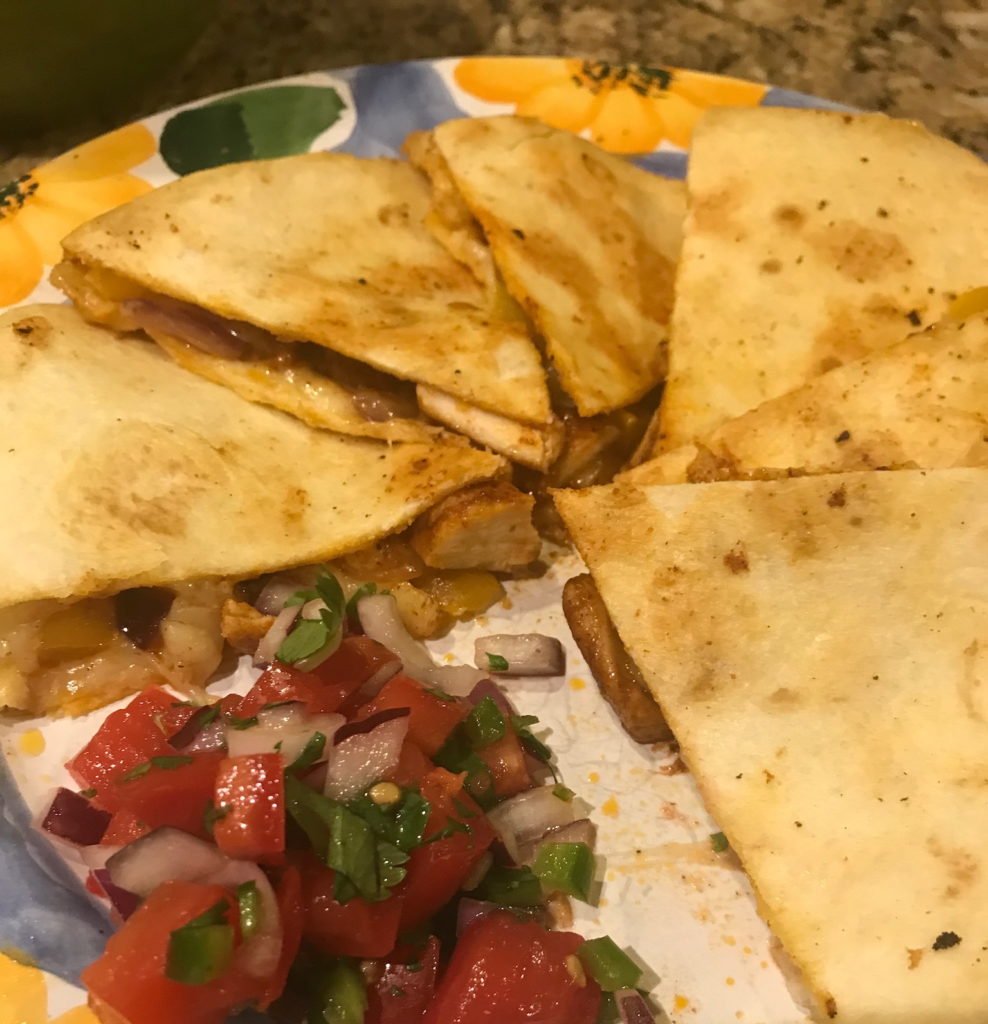 Yummy and fairly quick. It tastes better than it looks. Now off I go to work on my photography skills.
Chicken Quesadillas
Ingredients
6

large

flour tortillas

2

tablespoons

olive oil

1

pound

skinless, boneless chicken breasts

salt and pepper

1/2

package

taco seasoning mix

1/2

large

red onion

cut in half and then sliced

1-2

bell peppers

any color, seeded and sliced into strips

2 1/2

cups

grated Monterey jack cheese

butter

for frying
Pico de Gallo
6

Roma tomatoes

diced

1 1/2

red onions

diced

1

cup

fresh cilantro leaves

chopped

1

jalapeño

finely diced

juice of 1 lime

salt to taste
Instructions
Heat 1 tablespoon of the olive oil in a skillet over medium-high heat. Chop or dice the chicken into bite-sized pieces. Sprinkle the chicken with salt, pepper, and taco seasoning. Add the chicken to the skillet and sauté until browned. Because the pieces are small, the chicken will be cooked through. Set aside.

Add the remaining 1 tablespoon olive oil to the skillet over medium-high heat. Slice onions and peppers, and add them to the skillet. Cook until the peppers are tender, 3 to 4 minutes. Remove and set aside.

Turn down the heat slightly to medium-low and melt 1/2 tablespoon of the butter in the skillet or griddle. Lay a flour tortilla in the skillet. Add grated cheese on the bottom tortilla, and then add the chicken and cooked peppers/onion mixture. Top with more grated cheese and cover with another tortilla.

When the tortilla is golden on the first side, carefully flip the quesadilla to the other side, adding another 1/2 tablespoon butter to the skillet at the same time. Continue cooking until the second side is golden. Repeat to make additional quesadillas.

Cut each quesadilla into wedges and serve with pico de gallo.
Pico de Gallo:
Dice tomatoes (using a serrated knife) and onions. Chop the cilantro.

Cut a jalapeño in half. With a spoon, scrape out the insides. For more spice, leave some of the white membranes. Dice the jalapenos very finely. Add all four ingredients to a large bowl.

Slice a lime in half and squeeze the juice into the bowl. Sprinkle with salt, and stir together until combined. Taste the pico de gallo and add more salt if needed.
Feel free to share this recipe: