Jump to Recipe
The days are chilly and crisp, yet often bright. Everyone and everything just wants to be cozy. We're in the midst of soup season. I've made this chicken noodle soup recipe a few times before (thank you Food Network!) and now I'm spoiled. No more canned chicken noodle soup for me. No more mushy noodles and veggies, if I can even find any goodies. A bit of carrot? A scrap of chicken?
This recipe calls for parsnips, which I rarely use and barely familiar with. I also get them mixed up with turnips. And how does the rutabaga fit in, other than it's a funny word to say? Let's educate ourselves, shall we?
The parsnip is a long, tuberous root vegetable, has cream-colored skin and flesh root, and is related to carrots and parsley.
Turnips look completely different. They are round and mostly white, with some purple, red, or green, depending on the variety. So what's a rutabaga? Some say it's the same as a turnip, but others disagree. The rutabaga is larger and sweeter, is a cross between a cabbage and turnip, and has a yellow flesh.
The secret soup ingredient is fresh dill. Don't skip it. I've made this soup with and without, and there's something about that sweet, slightly licorice flavor that enhances the chicken and veggies. It sounds weird, but it works.
My only issue with this recipes is that there's way too little broth, but I ended up using that in my favor. If you are eating the soup in one sitting, use 1 1/2 to 2 times the amount of broth the recipe calls for, about 9-12 cups. For our family of three, I split the original recipe and used 4 cups of broth instead of 3. The original recipe makes 4 large portions, but these people must be giants. We were able to get 8 servings from the full recipe. On the first day, I will serve the soup with most of the broth. This prevents your noodles from soaking in the broth and becoming mushy for when you have it for leftovers. When you do heat it up again, add another 4 cups of broth so it's more like soup instead of a plate of pasta.
I like to prep everything first. First chop your veggies.
Then dice your chicken. If you do it the other way around, you'll need to use two cutting boards instead of one to avoid cross-contamination.
First add your carrots. Wait a minute or so. Then add your parsnips and wait another minute or two. The recipe assumes you are chopping as you go along so if you prep like me, don't add the veggies all at once. Space it out. Add the onions next. Another couple minutes later, add your celery. Adding your veggies in this order ensures that the carrots are cooked the longest and the celery is not over cooked.
Season and add a couple bay leaves. Add your preferred amount of broth, boil, add chicken, and boil again. Turn it down to simmer, cook the chicken for a couple of minutes, and then add the noodles.
When the noodles are tender, your soup is about ready. You just need to add fresh parsley and dill (don't use dried!), remove bay leaves, and serve. Yum. Now you are all cozy.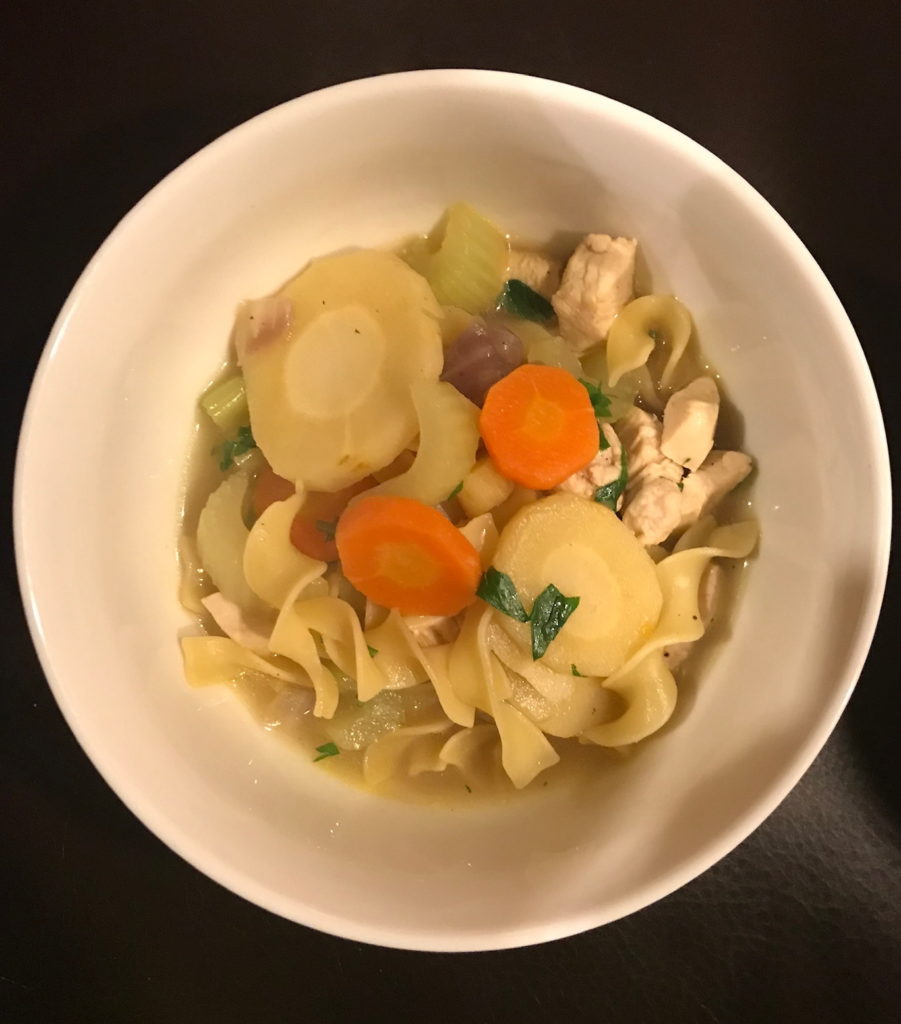 Chicken Noodle Soup
Ingredients
2

tablespoons

extra-virgin olive oil

2

medium

carrots

peeled and chopped

1

parsnip

peeled and chopped

1

medium

onion

chopped

2

stalks

celery

chopped

2

bay leaves

salt and pepper

9-12

cups

chicken broth

1

pound

chicken breasts

diced

1 1/2

cups

egg noodles

handful

fresh parsley

chopped

handful

fresh dill

chopped
Instructions
Heat extra-virgin olive oil in a very large pot over moderate heat. Prep the vegetables by chopping/or peeling them. Keep them in separate piles.

Add each vegetable to the pot in the order they are listed, waiting a couple minutes between each vegetable before adding the next.

Add bay leaves and season vegetables with salt and pepper, to taste. Depending on how thick you want your soup, add broth to the pot until it's the amount you prefer. Bring it to a boil.

Add diced chicken, return soup to a boil, and reduce heat back to moderate. Cook the chicken for 2 minutes and then add the noodles. Cook the soup for 6 minutes or until noodles are tender. Remove soup from the heat.

Stir in parsley and dill, remove bay leaves, and serve.
Feel free to share this recipe: